President Joko Widodo laid a cornerstone for the new Bali International Hospital in Sanur on Monday, 27 December 2021, declaring his hope that the public will no longer feel a need to seek medical care abroad.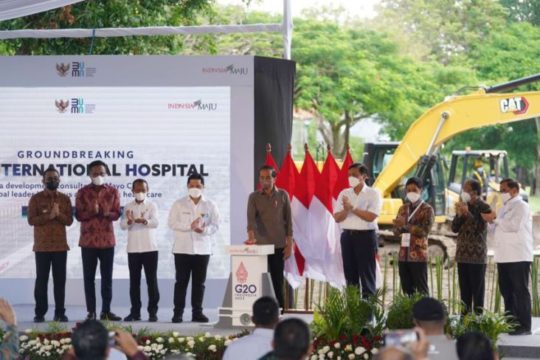 Quoted by Detik.com and shown on the Presidential Youtube.com channel, the Indonesian President said: "Thanks be to God, this morning we commenced construction of the Bali International Hospital will eventually collaborate with the Mayo Clinic in the USA. We hope that this that it will become a Special Economic Zone (SEZ) and that our people will no longer travel overseas for medical care."
Joko Widodo noted that many citizens undergo medical care outside of Indonesia every year. He hopes that by building international standard hospitals in Indonesia, the trend for medical treatment outside of Indonesia can be reversed.
"We know that there are about 2 million of our people every year who go overseas to get medical care in Singapore, Malaysia, Japan, America, and elsewhere. As a result, we lose Rp. 97 trillion," said the Indonesian President.
Continuing, President Widodo said: "I appreciate what has been initiated, and starting today will be initiated by the Minister of BUMN (State-Owned Enterprises), Erick Thohir, and his team. Once again, I hope that with the completion of the Bali International Hospital, absolutely no one will go abroad; all will come to Bali, and Bali will be a health tourism destination."
Looking ahead, President Joko Widodo said establishing an international hospital in Bali will also increase the number of tourists coming to Bali. The President lauded that the new hospital in Bali will be working with Mayo Clinic, one of the world's greatest medical centers.
The new hospital is slated for completion in three years. "Again, I express my sincere thanks, and we hope that by mid-2023, the hospital will be completed and operational. I also hope that the aspirations stated by the BUMN Minister are achieved to (not only) build this hospital but also eliminate the importation of medical equipment, medicines, and raw materials can stop. These items can be produced domestically."
Related Articles
Bali Cancer to Open with Famed Mayo Clinic
Four Seasons Bali: Cancer Care Massage
Bank Indonesia View on Tourism in Bali
Editorial: A Rethink on Bali's Recovery