A 56-year-old Russian national, Evegenii Bagrianstev, has heard State Prosecutors in Bali seek a four-year prison sentence in the extortion of hundreds of millions of Rupiah.
State Prosecutor I Made Dipa Umbara told RadarBali.com on Thursday, 06 January 2022, that Bagrianstev, posing as an Interpol undercover police official, threatened and extorted large sums of money from a Uzbekistani national who is operates a motorcycle rental company in Bali.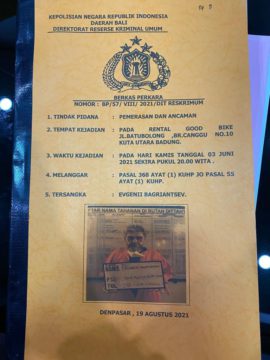 The Russian allegedly had an accomplice in the crime, Maxim Zhilitisov, who is still being sought by police.
Bagrianstev is on trial and charged under section 368, paragraph 1 of the Indonesian Criminal Code (KUHP) for making threats and extortion.  
The crime reportedly took place on 17 February 2021 when Bagrianstev, in the company of Maxim Zhilitisov, visited the Good Bike Motorcycle Rental Agency operated by Nikolay Romanov on Jalan Batu Bolang in Canggu in North Kuta. Some of the vehicles rented by the company are owned by another expatriate, Dimitri Babaev, who is now serving as a police witness in the case.
Bagrianstev told Romanov that he was an undercover Interpol officer and that the Uzbekistani was being sought for criminal acts by Interpol.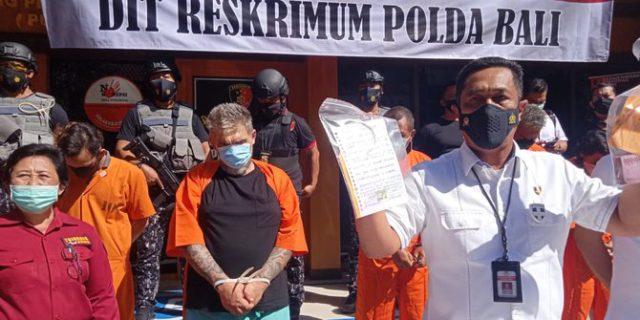 The bogus policeman threatened his victim and Babaev with arrest if they failed to pay hundreds of millions in Rupiah as hush money.
Bagrianstev forced Romanov to prepare a list of the 21 motorcycles he offers for rent to the public. During the following month, the criminals took away one-by-one motorcycles, a process that lasted until 26 March 2021. Later, on 22 May 2021, Bagrianstev returned seeking more money while threatening that Romanov could be facing four years in prison and fines of Rp. 400 million.
The fake Interpol officer demanded another payment of Rp. 230 million, finally agreeing to periodic payments amounting to Rp. 121 million when Romanov said he could not pay the larger bribe in one lump sum.
Bargrianstev also took an XMAX motorcycle worth Rp. 50 million.
Police estimate that, in total, Romanov suffered losses of Rp. 171 million.
Related Article