Beyond Bali News
Police from the East Java Police Precinct of Megetan have arrested two men working as drivers on a water delivery truck for one of Indonesia's leading mineral water companies.
Police arrested two men, identified by Kompas.com only by EW's initials (31) and AS (27), who were caught contaminating 19-liter water bottles with untreated tap water. The bottles were carried on their delivery truck they drove for their employer.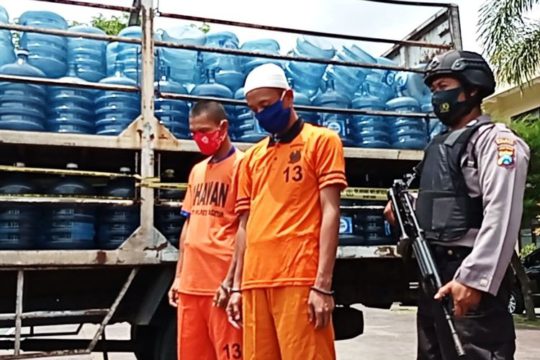 Employed by the leading mineral water company, that Latin speakers would find eponymously named, police confirmed the two men's arrest during a press conference on Friday, 27 November 2020. A police spokesman said, "We arrested them on the road between Maospati and Ngawai on board the truck they use to distribute the mineral water."
The two men were caught selling untreated tap water as the top brand's mineral water. They had ingeniously devised a way to refill empty 19-liter bottles by installing new "caps" that resemble the original distinctive white-banded seal that consumers have come to trust as proof of a water bottle has been factory-filled and certified as uncontaminated and therefore safe to consume.
Police explained: "The perpetrators would open 'galon' containers of water using pieces of wood that would leave the seals intact so they could be returned to a bottle filled with regular water to look like the original thing." The men sold the new bottles at a price equal to the price of a bottle filled from the factory, thereby netting an illegal profit for the two men of Rp. 13,000 per bottle.
Police seized as evidence the truck carrying 300 water bottles, 11 seals, a piece of wood used to open mineral water bottles, and a handphone.
Police and the bottled water company are now investigating how many of the bottles transported in the truck were bogus.