Detik.com reports that immigration authorities have apprehended a Canadian wellness guru Jeff Craigen for posting a video of himself dancing naked on the peak of Bali's Mount Batur Volcano.
Following numerous complaints from the public regarding Craigen's naked dance on Mount Batur, the head of the Denpasar Immigration Office, Tedy Riyandi, said on Sunday, 24 April 2022, said: "We are monitoring the situation. Our team is gathering evidence and statements."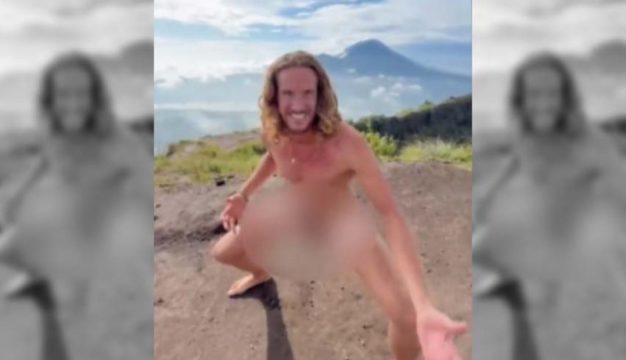 Officials at Mount Batur say Craigen climbed Mount Batur during a period when tourists were not permitted access to the mountain. A guide did not accompany Craigen, typically required when visitors climb the volcano.
The errant postings by Jeff Craigen were also reportedly made on his Instagram account @mind_body_healer. Blurred to conceal his genitalia, the video showed the man dancing at the volcano in an area considered by many Balinese to be sacred.
The posting also contained the comment by Craigen: "When you strip naked without shame and can be seen, you become a fearless child of God." The video showed Craigen performing a mock Maori Warrior Dance (Haka).
The posting also included an admonition warning his audience that no one living in fear will be able to enter the Kingdom of God until they can dance completely naked like small children. He asked his audience if they were ready for happiness? He also said the dance he performed was learned in New Zealand.
Claiming his dance was imperfect and imprecise, he said that he intended no insult to any culture or religion. He only wished to express his emotions and vulnerabilities through voice and physical movement.
He also posted that several Maori have contacted him to advise him that his New Zealand haka dance was flawed and imperfect. He thanked the public for their input and expressed his wish to study New Zealand culture – a culture for which he declares a sincere love.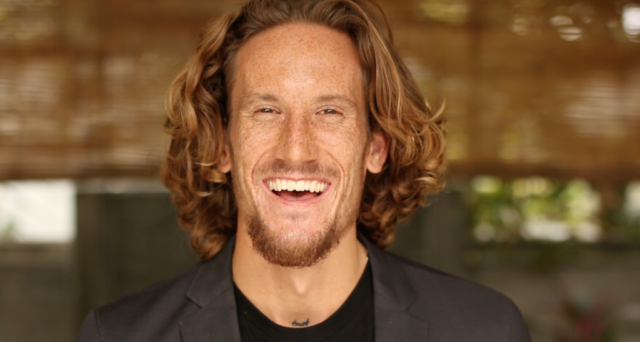 Meanwhile, the head of The Law and Human Rights Office in Bali, Jamaruli Manihuruk, told NusaBali.com indicated that immigration officials would take action against Craigen, who has committed acts fundamentally in opposition to this Indonesian and Balinese religious values.
"A team from Denpasar has investigated and managed to identify the foreign national," said Jamaruli on Sunday, 24 April 2022. Officials managed to track the man through the computerized information system operated by the Department of Immigration.
The errant man was identified as Jeffrey Douglas Craigen – a 33-year-old Canadian from Vancouver staying in Bali on a visitors' visa that expired on 27 March 2022. Craigen is currently applying to extend his visa – a process handled by his Indonesian guarantor.
The long-haired life coach describes himself on the Internet in various ways. Proclaiming himself as a "joy expert," Jeff Craigen also touts himself as a personal trainer, traditional healer, professional actor, voice-over artist, photographer, and the founder of a movement called "Mindbodyhealer."
"During our investigation, we were finally able to make contact with the foreigner's guarantor. As a result, the man's passport and immigration documents have been seized, and Craigen has been summoned for an official interview," said Jamaruli.
After reporting to the immigration office in Denpasar, Jeff Craigen was taken into custody preparatory to being deported from Indonesia. In questioning, the Canadian admitted he unloaded the offending video in April 2022 and explained he had no understanding that Mount Batur is considered a sacred locale by the Balinese and intended no offense to the local community. Jamaruli said: "The motive claimed by the man that he only wished to express himself by performing a Haka dance from New Zealand.
Following the interrogation, immigration officials concluded Craigen had violated social norms and the law and will therefore be deported from Indonesia and blacklisted from re-entering the country for a specified period.
The head of immigration called on the public to report violations of the law committed by foreigners in Indonesia. At the same time, he urged foreign visitors always to conduct themselves in an orderly manner and respect the mores and norms of Indonesian society. Adding: "We hope foreigners holidaying in Indonesia and Bali will obey existing law. If violations are proven, they will certainly be deported."
Craigen has been assigned to the Denpasar Immigration Detention Center while awaiting his departure from Indonesia.