The global downgrading in the COVID pandemic has many countries with large tourism sectors, like Indonesia, hopeful that levels of air travel to their destinations will soon return to pre-pandemic levels.
This hopeful optimism for a full tourism recovery, when it eventually takes place, will depend to a great extent on the full resumption of outbound travel from the People's Republic of China (PRC) to pre-pandemic levels.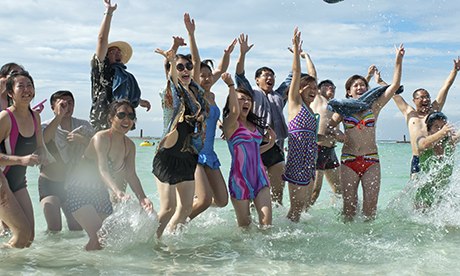 The PRC continues to relax travel restrictions. However, for reasons that are not completely clear, Chinese nationals are now more content to stay home than travel abroad.
According to the State of Travel 2023 Report from Skift Research, published last week and shared by Travel.detik.com, domestic air travel in China has returned to 2019 levels. International travel, however, remains half of pre-pandemic levels after declining by some 5 million seats.
Several reasons have been put forth for the downturn in international travel by the mainland Chinese, including the lack of flight options and the complicated and time-consuming requirements to obtain travel visas. Wolfgang Georg Arlit, founder-CEO of the Chinese Outbound Tourism Research Institute, quoted by CNBC on Friday, 28 July 2023, said: "Other reasons (for the lack of international travel by the Chinese market) is the prestige and quality of domestic travel on offer."
Arlit added: "For the recent Dragon Boat Festival, domestic tourism levels returned to 2019 levels. Meanwhile, levels of travel abroad are only one-third of the number of trips undertaken in 2019.
When outbound Chinese travel does recover, travel within the Asia-Pacific region is expected to prove the most viable. Reuters reports that the number of Chinese traveling to Thailand, Indonesia, and the Philippines declined in May by 60% compared to the same period in 2019.
Another survey carried out by Morning Consult states that the desire of Chinese tourist to visit Europe, Central America, and Antarctica are now increasing. Chinese travelers' interest in visiting the Middle East, and North Africa – including Egypt is also growing.
The Morning Consult Report also said Mainland Chinese tourists' interest in visiting the USA is on the decline. The downturn in Chinese travel to the USA is linked mainly to a lack of flights and geopolitical considerations.
Research also confirms that tourist spending is down. The fewer Chinese tourists traveling also spend less in the post-COVID period." Chinese are more cautious in their expenditures due to a slower economy," said Arlit.
The Skift Report states that traveling ranks third in spending priorities among the Chinese. Chinese travelers allocate funds for dining, exercise, and health when they travel.
Record rates of unemployment among Mainland Chinese youth are also impacting travel. Generation Z (people born between 1996 and 2010) are leaders worldwide in undertaking travel and tourism.
While outbound tourism from the Chinese market continues to lag and fail to meet the tourism industry's expectations, Chinese outbound travel doubled in the first half of 2023 over the preceding year. Signs of future growth suggest the number of overseas trips by Chinese will triple, with many actively planning to visit family and relatives, participate in medical tourism, or seek education abroad.
The Skift Survey reveals that 50% of the Chinese who travel are planning an international trip in the coming 12 months.
Related Links
Mainland Chinese Poised to Return to Bali
Strong Q1 for Bali International Arrivals
Stay Informed on Bali Tourism-Related News: Subscribe to Bali Update