Several shops renting electric bikes are now opening in the Sanur Beach area of Bali, providing cycles for tourists to pass local beaches on bikes with pedals that require little or no exertion when the rider elects to stop pedaling and allow a small battery-driven motor to take over and provide propulsion.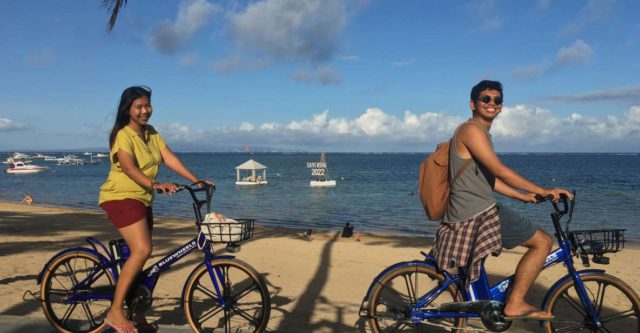 Sanur opened its first e-bike rental shops in December 20222, renting motorized bikes for around Rp. 35,000 per hour. The busiest days for rentals are Saturdays and Sundays.
Before opening the bike rental shop, I Wayan Muja, the proprietor of one e-bike shop, worked as a fisherman and trader on Sanur Beach until his shop was displaced by the development of the areas surrounding the Grand Inna Bali Beach as a Special Economic Zone for Health.
Wayan Muja's e-bike rental shop has been open for only two months after forming a joint venture with 11 friends who gathered the capital to purchase 20 bicycles, each rented for Rp. 35,000 per hour.
Busiest on weekends, Wayan says the majority of his customers are domestic travelers, with international travelers usually visiting during mid-day.
As reported by RadarBali.com, the e-bikes are acquired for between Rp. 5 = Rp. 7 million each.
Bike batteries are recharged each evening.
On a good day, each e-bike is rented for five hours.
Another e-bike shop operated in Sanur by I Wayan Serikut also resulted after his small warung (kiosk) was closed by the expansion of the new Medical Special Economic Zone and the Bali – Nusa Lembongan ferry on which he worked ceased operations during the pandemic.
Like Wayan Muja, Serikut gathered the necessary capital from friends. His shop opens daily from 6:00 am until 8:00 pm. After closing, it takes three hours to recharge the battery of each of the 22 bikes he operates.
Serikut said that after 3:00 pm, the hourly rate, depending on the business, can reduce to Rp. 25,000 Per hour. Most customers rent an e-bike for four hours.
Stay Informed on Bali Tourism-Related News: Subscribe to Bali Update