The Regent of Karangasem in East Bali, I Gede Dana, welcomed two Czechoslovakian investors on Thursday, 30 December 2021. The two investors – identified only as Daniel and David, were escorted to his office by the traditional leader of the village of Bugbug.
The two Cekoslovakian investors are reportedly working together with the Village of Bubbug to build a five-star Nano Resort at Enjung Awit, Candidasa. The planned resort will initially cover 2 hectares at the cost of Rp. 2.15 trillion to be expanded to 23 hectares in phase two.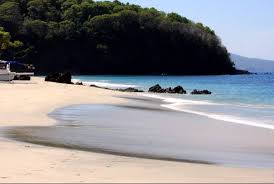 Speaking through an interpreter, Daniel and David told the Karangasem Regent how they have contracted land from the traditional village of Bugbug at Enjung Awit – a peninsula on an eastern peak in the Candidasa Tourism area. The site sits on a white sand beach in front of Gili Tepekong. The leasehold agreement with the traditional village of Bubbug will be for an initial 25 years, extendable for an additional 25 years after that. The deal with the village includes a pledge to prioritize 75% local hire of people from Bugbug.
The traditional chief of Bubgbug, I Nyoman Ngurah Arsana, said the cornerstone laying ceremony is set for Friday, 28 January 2022, with completion targeted for June 2022 at an initial cost of Rp. 150 billion. Over the following three years, an additional 23 hectares will be developed at a budgeted cost of Rp. 2 trillion. Nyoman Ngurah Arsana told the press that a formal agreement had been signed before a notary covering the land lease and the commitment to hire local workers.
While not prepared to divulge details of the contract with the two Czechoslovakian investors, the village elder said religious ceremonies had been conducted to seek God's blessing on the project.