A fire of savannah lands on the forested slopes of Bali's sacred Mount Agung Volcano near Banjar Dinas Bantas, Baturinggit Village in Karangasem, was still burning out of control and spreading to new areas on the evening of Thursday, 28 September 2023.
On Thursday evening, the fire had spread to Juntal and Pucang.
As reported by detik.com, the Chief of Operations from the Karangasem Disaster Mitigation Agency (Kalaksa BPBD Karamgasem), Ida Bagus Ketut Arimbawa, declared that it is almost impossible to extinguish the fire.
"Currently, we are observing and creating fire breaks so the fire does not spread to productive lands belonging to mountain residents. Extinguishing the fire point is very difficult to do," said Arimbawa on Thursday.
Based on BPBD Reports, active fire spots are still blazing on Mount Agung in areas far removed from productive farmlands or settled spaces. Arimbawa has expressed concerns that firefighters are exposed to a raised risk factor in fighting such a fire because of the remote and steep terrain under threat.
Discussions to examine the feasibility of fighting the fire with helicopters have been abandoned after it was determined that the risk of turbulence in a mountainous location was too severe.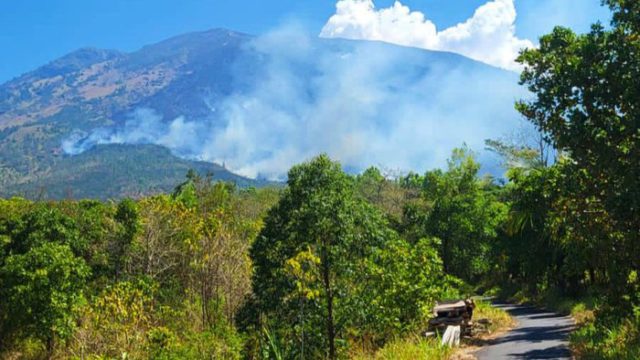 "Working with related agencies, we are seeking the best solution to extinguish the fires. We also remain focused on protecting the lives of our firefighters," said Arimbawa.
An Update on the morning of 29 September 2023 stated that 35 hectares of forest and savannah land had been burnt, with most of the affected land occupied by tall grass and small trees. Before the fire, the land was left dry due to high winds and drought-like conditions.
Firefighters remain on-site at the ongoing fire.
Related Links
Facilities Upgraded at Pura Agung Besakih
American Dies Climbing Bali's Mount Agung
22 Bali Mountains Closed to Climbers
Facilities Upgraded at Pura Agung Besakih
Stay Informed on Bali Tourism-Related News: Subscribe to Bali Update