The Garuda Wisnu Kencana (GWK) Cultural Park will be closed indefinitely starting from 01 February 2021 in a move to prevent public gatherings and the spread of COVID-19.
The GWK Cultural Park is home to a 121-meter-high statue of Lord Vishnu sitting atop a mythical Garuda Bird. The monument that dominates the 60-hectare complex is 30 meters taller than the Statue of Liberty and weighs some 4,000 tons.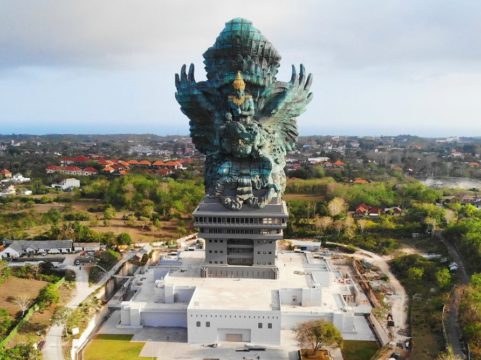 The Indonesian President inaugurated the statue in September of 2018.
The GWK Park is located south of Bali's Ngurah Rai International Airport.
The closure comes after the Park's reopening in December 2020 following a prolonged closure during the continuing pandemic.
Quoted by Tribun-Bali.com, Sandiaga Uno, Indonesia's Minister of Tourism and the Creative Economy, commented on Saturday, 30 January 2021, that the government will decide to reopen GWK after consulting with the Regency of Badung and the Provincial Administration of Bali. Reopening can only be done when circumstances allow the Park to serve its normal visitor flow of around 5,000 people daily.
The Tourism Minister said the government decided to temporarily close the Park as part of national efforts to curtail the spread of COVID-19. Accordingly, close monitoring of new cases of the coronavirus in Bali and across the Nation will signal when it is once again safe to reopen GWK to the public.
Andre Prawiradisastra, the general manager for marketing communications and events at GWK, said: 'This temporary closure will hopefully assist efforts to control the COVID-19 pandemic, especially on the Island of Bali. This will, in the end, help to revitalize the Bali's tourism industry and the Island's role as the gateway for Indonesian tourism."
Prawiradisastra continued, adding that the staff and workers at GWK represent an essential asset that must be protected. For the time being, the closure will allow Park workers to return to their homes to practice self-isolation and obey all the health protocols mandated by the government.
"The main point is that our workers are an asset that we wish to safeguard by temporarily closing the Park to tourist visitors. Because our staff experience a high level of interaction with the public in their work, there is a greater risk of COVID-19 exposure and infection. All employees will now be sent home during the period of the temporary closure," said Prawiradisastra.
The GWK Cultural Park employs some 300 workers. That number is outside of outsourced workers employed in security, customer service, and other areas.
Before the decision to temporarily close starting on 01 February 2021, the GWK Cultural Park has been operating on a reduced basis, open only three days a week on Fridays, Saturdays, and Sundays.
Related Articles
Bali Nets 366,666 Domestic Holidaymakers
GWK Cultural Park Opens 04 December 2020