Bali's northern Regency of Buleleng is working on expanding the export potential of fruit produced in the region.
One of the fruits exported from North Bali is the Mangosteen – known locally as Manggis – that now enjoys a market in the PRC due to strong demand during Chinese New Year celebrations.
The current production of Mangosteens in Buleleng Regency approaches 10.5 tons. Local farmers are accessing export markets via an agent operating from Denpasar.
To increase production, the Buleleng Regency Administration plans to dedicate 50 hectares of land in Busungbiu District to Mangosteen Cultivation.
RadarBali.com reports the cultivation of Mangosteens is centered in five villages in Buleleng Regency: Desa Pucakasari, Umajero, Telaga, Kedis, and Subuk. The Head of Agriculture and Horticulture in Buleleng, I Gede Subudi, commented: "Later, in each of these villages, an additional 10 hectares will be cultivated in Mangosteens for a total new planting of 50 hectares.
Subudi said farmers would get assistance from the Regency, including 100 seedlings per hectare for the Kaligesing variety of Mangosteen, two tons of organic fertilizer per hectare, 300 kilograms of dolomite fertilizer per hectare, and a further 100 kilograms of NPK fertilizer per hectare.
The assistance will be given to farmers in each village starting from June 2023 to allow the land area to be gradually prepared for planting.
"Around October, the seedlings will be delivered, with actual planting to commence in November. " Hopefully, there will be fruit to harvest in five years," explained Subudi.
Subudi says the five villages' climate and soil conditions suit Mangosteen cultivation. The market for the export of additional fruit stocks is very promising, especially to China, Hong Kong, and Taiwan.
More About Mangosteens
Depending on age, the Mangosteen trees can grow to a height of 6 to 25 Meters high.
The tree grows from 6 to 25 meters (20 to 82 feet) tall. Native to Southeast Asia, the Mangosteen is often termed the "Queen of Fruit," prized for its juicy, delicate texture with an incomparable sweet and sour flavor.
An apocryphal story links Mangosteen to England's Queen Victoria (1819-1901), who, after being told the Mangosteen was the "most delicious fruit," supposedly offered a reward of 100 pounds sterling to anyone who could deliver to her a supply of fresh mangosteens. The story is probably inaccurate and traces to a 1930 publication by the botanist and "plant explorer" David Fairchild .
Growth is limited to tropical climates, with Mangosteens now grown in the West Indies, Jamaica, Guatemala, Honduras, Panama, Puerto Rico, and Ecuador, as well as various countries across Southeast Asia.
Bali's northern Regency has become famous for its bounty of fruits providing income to the surrounding communities. The Regency, stretching along the Island's northern shoreline, is home to many vineyards that supply grapes to many local wineries, dragon fruit, and, now, Mangosteens.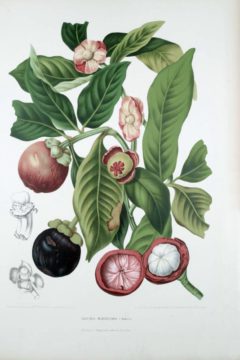 Stay Informed on Bali Tourism-Related News: Subscribe to Bali Update