Skål International Bali has announced the Skål Asia Congress 2023 (SAAC 2023) will be held from 1-4 June 2023, at the Merusaka Hotel in Bali's Nusa Dua.
The Bali Congress is expected to attract 300-400 delegates from across Asia and a number of nations worldwide. The event is being promoted to Skål members as an ideal locale for tourism professionals to discuss promoting sustainable tourism development.
Promised to become the "Best-Ever Skål Asia Congress," the 2023 event in Bali's Nusa Dua Complex will be headquartered at The Merusaka Hotel – a 5-star resort in Nusa Dua offering stunning views of the Indian Ocean.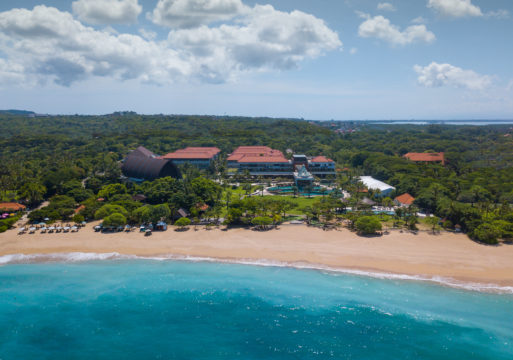 Ten Reasons to Attend Skål Asia Congress in Bali
The organizers have listed ten reasons why this year's Skål Asia Congress will be an outstanding event that should be attended by Skål members.
1. Outstanding Networking Opportunities.
The Congress will bring together tourism professionals from across Asia and the world, providing excellent networking and business dialogue opportunities.
2. Listen to Top Industry Influencers.
The Congress will feature renowned colleagues representing a broad cross-section of tourism professionals, sharing insights and experiences regarding current tourism trends.
3. Engage in Thought-Provoking Discussions.
Attendees will have the opportunity to participate in interactive discussions on various tourism-related topics; exploring multiple perspectives and solutions.
4. A Chance to Experience Balinese Hospitality.
By attending a world-class event, Bali will showcase its world-renowned warm, and welcoming culture. The Congress promises to be a high-profile event, providing attendees with an unforgettable experience.
5. Enjoy Bali's Natural Beauty.
Bali is a world-famous travel destination, renowned for its stunning beaches, lush jungles, and unique native culture.
6. A Chance Visit to Experience Historic Nusa Dua.
Nusa Dua is a picturesque peninsula located on Bali's southernmost coast that is home to some of the world's most luxurious resorts and the Island's best beaches. The complex has hosted some of the world's most prestigious summits including the G20 and International Monetary Fund,
7. Stay at the Luxurious Meruska Hotel.
The Merusaka Nusa Dua is a top-rated luxury resort offering world-class amenities and services. Visit the Hotel's Website.
8. Discover Bali's Top Tourist Attractions.
While in Bali, visit the Island's top five tourist attractions, as defined by Trip Advisor:
9. Explore Bali's Most Popular Island Destinations.
Make side excursions to Seminyak, Kuta, Ubud, Jimbaran, Sanur, Legian, Nusa Dua, Canggu, Uluwatu, and Denpasar.
10. Learn from Skål International.
Skål International is a leading organization in the tourism industry, with more than 12,200 members in 86 countries from 308 clubs worldwide, promoting sustainable development through tourism.
As such, the Congress is an excellent opportunity for industry leaders to come together, share best practices, and explore ways to drive sustainable tourism growth in the region.
Skål International World President Juan Steta will attend the Skål Asia Congress in Bali, highlighting the significance of the event and lending his support to the Club's mission of promoting sustainable tourism development in the region.
Related Links
For more information and reservations Email.
Visit the Skål Asia Congress Website
Skål International Bali Website
Stay Informed on Bali Tourism-Related News: Subscribe to Bali Update