As part of its continuing commitment to positive cooperation with the local community and environmental sustainability, The Tran Resort Bali in Seminyak, Bali, is hosting a Sustainable Food Festival from 08 until 24 July 2022.
The Sustainable Food Festival is the latest chapter in The Trans Resort's series of community outreach programs, including an ongoing "Go Local Initiative" launched in 2020 that formed partnerships between the Resort and local businesses partner to permit them to survive the economic impact of the COVID-19 pandemic.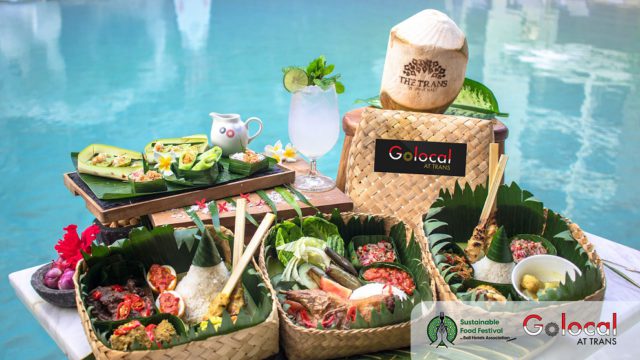 An idea whose time has come, the current 16-day-long Sustainable Food Festival is held in cooperation with 44 Bali Hotel Association (BHA) and Bali Restaurant Café Association (BRCA) members.
The Bali Sustainable Food Festival showcases the innovative means being introduced by Bali hotels and restaurants to introduce a more sustainable approach to food preparation and presentation.
All the participating hotels and restaurants have adopted the following key criteria linked to sustainability, namely:
Use of 1005 locally sourced ingredients.
Encourage a minimum of 75% organically grown produce.
Respect principles of fair trade in support of local economies and livelihoods.
A firm focus on protecting the environment creates a greener and cleaner Bali.
At The Trans Resort Bali, the Bali Sustainable Food Festival spotlights Balinese cuisine prepared by their talented culinary team, including the traditional local favorites of Ayam Betutu, Kakap Mentabus, and a vegetarian option. The Resort's chefs, working in close consultation with family recipes shared by their mothers and grandmothers, use only local ingredients grown organically and sustainably.
Every effort is made to be both sustainable and economically beneficial to the local community by buying ingredients from local sources.
Surplus food not consumed is donated to Scholars of Sustenance Bali (SOS) – a local not-for-profit organization that reduces waste in the food and beverage industry to produce healthy and much-needed food for people in need on the Island of Bali.
The sustainable dishes mentioned above are available to in-house guests and the general public in the Resort's main restaurant for only Rp. 150,000 net.
Bookings are essential by Email or via WhatsApp at +62(0)811 3800 8889.
Related Links