Bali Update's recent analysis of new daily infection rates starting from 01 May through 04 July 2021 demonstrated the rapid and dramatic increase in new COVID-19 infections, emphasizing an almost uncontrolled upward spiral in new cases in Bali dating from the third week of June.
The sudden upsurge in new in Bali and Java starting in late June prompted the national leaders to implement the virtual shutdown of Java and Bali under the PPKM-Darurat policies.
Balidiscovery.com thanks Jackie Pomeroy of Ubud, who has made an art form of following statistical developments of COVID-19 in Indonesia, has created the accompanying updated graph showing trends in reported daily cases starting from 01 May.
Reiterating our earlier coverage and statements made this past week by Indonesia's Minister of Tourism and the Creative Economy, Bali cannot even entertain removing restrictions on public movement and reopening its borders until the daily "new case" level decline.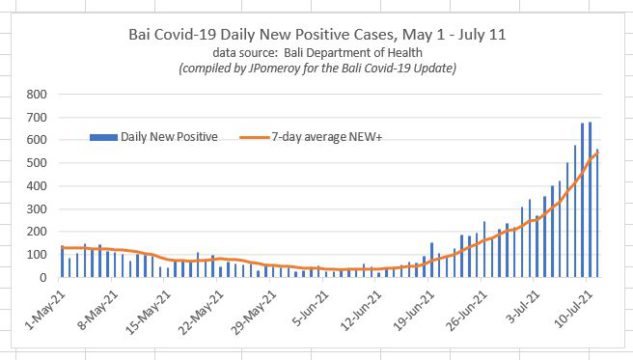 Unfortunately, over the past week, the number of new COVID cases has continued a relentless upward trend. New cases reported in Bali since 04 July 2021:
05 July 401 new cases
06 July 424 new cases
07 July 505 new cases
08 July 577 new cases
09 July 674 new cases
10 July 678 new cases
11 July 563 new cases
Balidiscovery.com, with the help of Jackie Pomeroy, will update these numbers one week from now.
The question that dominates is: "Will Indonesia extend the PPKM-Darurat beyond its current deadline of 20 July 2021 if new case numbers fail to decline?"
Sign up for Bali Update https://balidiscovery.com/signup/