Three international air routes resumed operation to Bali on Friday, 04 March 2022, as the Island's tourism industry reawakens from a two-year vacuum while eliminating quarantine requirements and resumption of the visa-on-arrival facility.
Quoted by Balipost.com, PT Angkasa Pura I's CEO (PAP I), Faik Fahmi, confirmed that three international air routes have resumed service by landing at the Island's airport on Friday, 04 March 2022. 
Garuda Indonesia
Flying a nostalgic retro-livery, the Indonesian national airline Garuda Indonesia landed GA 715, an Airbus A330, at 2:45 pm on Friday, carrying 61 passengers from Sydney to Denpasar, Bali.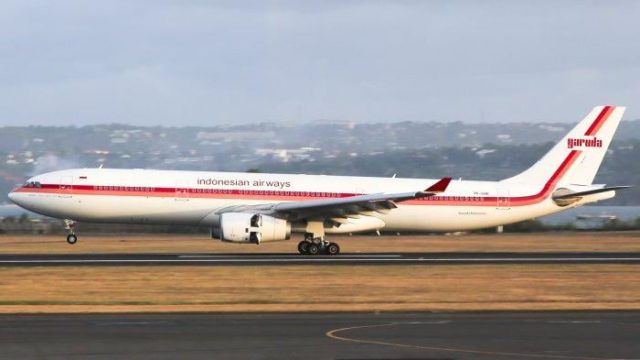 Jetstar Asia
Jetstar Asia 3K243 also landed on Friday, touching down at 9:55 am after flying from Singapore to Denpasar. The Jetstar Airbus A320 flew largely empty, carrying only eight passengers. The return flight (3K244) to Singapore left with six passengers. 
Scoot Tiger Air
The third resumed route landing on 04 March 2022 was operated by Scoot Tiger Air – TR288 flying from Singapore to Bali with an Airbus A320 aircraft carrying only 42 passengers landed at 6:45 pm. The return flight to Singapore left with only 11 passengers.
The three "new flights" joined other recently resumed international direct flights to Bali. Garuda reopened service in February, flying from Tokyo to Bali, and Singapore Airlines is now flying daily between Singapore and Bali.
Passenger loads on these international flights must increase to continue and remain economically viable.
The last-minute announcement that commencing 07 March 2022 quarantine requirements have been eliminated and visa-on-arrival is available for citizens from 23 countries are intended to stimulate international travel to Bali.
Domestic and international air passengers landing at Bali's Ngurah Rai Airport should expect to be greeted with ground and airline staff wearing personal protective appliances and enforcing an entire range of government-mandated health protocols. These protocols include covering mask-wearing, physical distancing, and the use of the official PeduliLindungi tracking technology.
Passengers intending to fly to Bali should check before departure on the latest requirements for PCR Swab testing, prepaid hotel bookings, and any changes in the rules.
Related Articles
Bali on 07 March: No Quarantine & VOA Back
Koster: End Quarantine & Resume VOA Now!
Making the Shift from Epidemic to Endemic
Bali to End Quarantine by Latest 14 March
Bali Prepares to End Quarantine
Towards Living Endemically with COVID-19
Indonesia Heads Toward an Endemic Future
Learning to Live Endemically with COVID
Living in a COVID-19 Endemic World
USA Market to Recover for Bali with SIA