There's good news for Bali's meeting and conference sector with the confirmation that The 5th Meeting of the 100-member countries of the Speakers of Eurasian Countries' Parliaments (MSEAP) 2021 will take place on the Island sometime in 2021. The conference was initially scheduled to be held in late 2020 but was postponed due to the global Pandemic.
Governor Wayan Koster warmly welcomed the decision by MSEAP to select Bali as the venue for its coming conference. An advance team from Indonesia's Agency for Inter-Parliamentary Cooperation from the Indonesian House of Representatives (DPR-RI), led by the team chairman, Fadli Zon, visited the Governor at his office in Denpasar on Tuesday, 17 November 2020.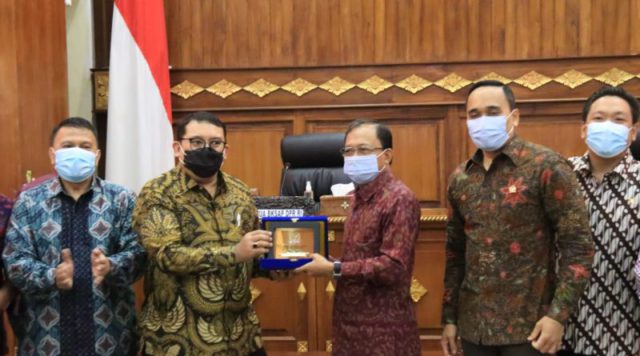 Governor Koster told the House of Representative members visiting Bali that the Province is making significant progress in handling COVID-19. Bali Tourism – now solely dependent on domestic tourism, is still underperforming compared to other Indonesia regions.
Koster reports that hotel occupancies in Bali are averaging around 20%.
Governor Koster expressed his wish that the MSEAP Meeting not be operated from a single locale, such as Nusa Dua. Ideally, the Governor would like other areas, including Sanur and Ubud, to be utilized to allow the economic benefits of the event to be enjoyed by a broader cross-section of the people of Bali.
The head of the advance survey team, Fadli Zon, said Bali offered many attractions for the MSEAP Conference and was selected at the 4th Session of the MSEAP held in Kazakhstan in 2019. "Bali beckoned, usually, if a conference is held in Bali, more people can be expected to attend," said Fadli.
Fadli expressed the hope that the coming MSEAP Conference in Bali will provide added momentum to Bali's tourism industry's recovery, proving to the world that Bali is open, safe, and following all the international protocols to prevent the spread of the coronavirus.
The conference's exact date remains unfixed, with organizers hoping the COVID-19 Pandemic will subside to allow the MSEAP conference to occur soon. Current plans call for the MSEAP conference in Bali sometime between September and November 2021, with delegations expected from around 100 countries.