Batik Air – the full-fare airline operated by The Lion Air Group, plans to operate direct flights connecting Bali and Singapore commencing in April 2023.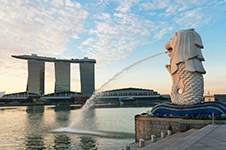 In announcing the new service, the Corporate Strategic Communications Manager for Batik Air, Danang Mandala Prihantoro, said: "Firstly, the direct flights by Batik Air from Bali to Singapore will be of great benefit for many parties."
Continuing, Danang said the new flight would ease access by tourists and business travelers to the most popular tourist destination of Bali and one of the largest cities in Southeast Asia – Singapore. Adding, "The interesting flight option will make it easier for tourists to travel between these two destinations without the need for an intermediate transit point in another city."
"Secondly, said Danang, "the direct Batik Air flight will help boost the number of tourists who visit Bali and Singapore. Through a thematic program, Batik Air supports the government program to improve foreign tourist arrivals: Proud to participate in Indonesian tourism (Bangga Berwisata di Indonesia – BBWI)."
The government wants to achieve 7.4 million foreign tourist arrivals and 1.2 to 1.4 billion domestic tourist movements in 2023.
"Tourists can also make international flight connections in Singapore to other destinations worldwide. Those international tourists arriving in Bali can connect to other destinations, including Lombok, Bima, Sumbawa, Waingapu, Tambolaka, Kupang, Labuan Bajo, Manado, and Australia.
Stay Informed on Bali Tourism-Related News: Subscribe to Bali Update