Citilink Indonesia has resumed flight services between Banyuwangi, East Java, and Bali's capital of Denpasar.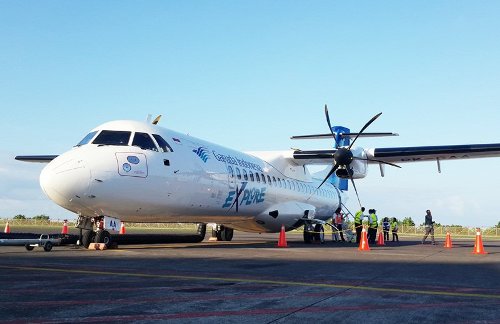 As reported by the State News Agency Antara, the daily flight service is being flown with ATR 72-600 aircraft.
Commenting on the resumption of the route, Citilink, CEO Juliandra Nurtjahjo, said:" Citilink is working with the Ministry of Tourism and the Creative Economic to restore Indonesian tourism with the resumption of flights between Banyuwangi and Denpasar. This also marks the reopening of Banyuwangi for tourism."
In addition to the restoration of the Banyuwangi – Denpasar route on 28 August 2020, Citilink Indonesia also restarted its short flight service connecting Denpasar and Lombok daily from 28 August 2020. This flight will also use ATR 72-600 aircraft.
Banyuwang- Denpasar
The Daily flight schedule connecting Banyuwangi and Denpasar QC 1682 will depart Bayuwangi at 07:35 am local time (WIB) landing in Bali at 9:15 am local time (WITA). The flight from Bali to Banyuwangi QC 1683 departs each day at 12:55 WITA landing in Banyuwangu 50 minutes later at 12:45 WIB.
Denpasar – Lombok
The daily flight schedule between Denpasar and Lombok QC 1672 will depart from Bali at 9:50 am WITA and land in Lombok at 10:50 am WITA. The return flight to Bali QC1673 leaves Lombok at 11:20 am WITA landing in Bali at 12:20 pm WITA.