The leading Indonesian news portal detik.com has published several articles examining the question of what appears to be an increase in the number of foreign visitors acting erratically in Bali (Menjamurnya Bule-bule Gila di Bali).
The detikTravel articles recently reviewed 6 cases in Bali of visitors behaving "crazily" (gila).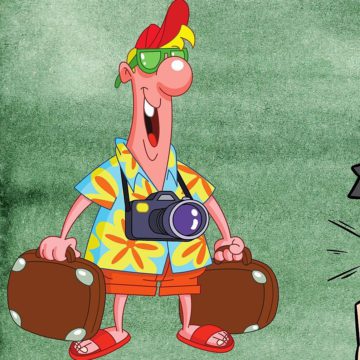 1. Foreign Visitor Vandalizing a Police Car
An American visitor, Thomas Charles Flach, Jr. (44), has been deported back to the USA after creating a public disturbance by vandalizing a police car and physically threatening the car's driver on Jalan Bypass Ngurah Rai, Padang Galak, Sanur on 14 June 2023.
Before he assaulted the police vehicle, Flach was apprehended by a local businessman when he attempted to steal a statue from a local art shop. Before becoming enraged and launching his attack, the American told police he was bankrupt and without funds. Police also say Flach had a history of harassing residents to be allowed to use a villa without charge in the Jimbaran area of Bali.
Back in Bali, Flach was held in the Denpasar Immigration Detention Facility for 26 Days before being deported from Indonesia to Los Angeles.
2 Irish Woman Apprehended at Bedulu Market in Ubud.
As reported earlier on Balidiscovery.com  and numerous other news portals in Indonesia, a 26-year-old Irish woman was delivered by community enforcement officers (Polisi Patpol) to the mental health facility in Bangli (RSJ-Bangli). According to Balitribune.co.id, local shop owners contacted the village chief when the woman began acting strangely, including repeatedly failing to pay for merchandise from their shop on Saturday, 15 July 2023, and incoherently mumbling while standing on the street outside the shop.
3 Disturbed Foreign Tourist Found Wandering on Mandara Toll Road
A foreign tourist was recently apprehended walking on Bali's busy Mandara Toll Road. The man, wearing a black shirt and white trousers, was discovered walking on foot against traffic flows on the highway. When approached, he broke the handphone of a toll official.
The man was eventually taken into custody and handed to the Regional Social Services Agency.
4 Female Tourist Vandalized Clinic in Kuta
A female foreign tourist experienced an emotional outburst at the Osma Medical Clinic Tuban on Jalan Waringin in Kuta on Monday, 17 July 2023. Local enforcement officers (Satpol PP – Badung) reported the woman broke a glass partition at the clinic. I Made Astika told DetikBali that the woman smelled of alcohol and was warded at the Professor Ngoerah Hospital in Denpasar with a preliminary diagnosis of Schizophrenia.
The woman carried no identity papers.
5 Dutch Expatriate Acts Up in Government Licensing Office
A Dutch expatriate reportedly exploded in a fit of rage at the Bali Provincial Investment and Integrates One-Stop Service Agency. The shirtless Dutchman allegedly burst into the government office, running back and forth, screaming loudly. Officials eventually subdued him and brought him to the Denpasar Enforcement Agency (Satpol PP Denpasar) on Jalan Kecebung in Denpasar.
Officials found the unnamed man verbally incommunicative, eventually handing him to the Mental Health Facility in Bangli (RSJ-Bangli) for further treatment.
6 Depressed Kazakhstani Woman Hospitalized
A 37-year-old woman from Kazakhstan, Aliya Kazaliyeva, was apprehended by local authorities on Saturday, 22 July 2023, on Jalan Raya Uluwatu, Jimbaran, South Bali. Thought to be suffering from depression, the woman was reported to officials when residents saw her roaming in a confused and aimless manner at around 11:00 a.m.
Unable to communicate with the woman, Satpol PP-Badung officials referred Aliya to Prof IGNG Ngoerah Hospital in Denpasar. After arriving at the hospital, the Kazakhstani woman unsuccessfully tried to escape while waiting for a consultation with a staff psychiatrist.
Immigration Official Provides View on Cause of Upsurge in Foreigners Acting Erratically in Bali
Also, in detik.com, the Director General of Immigration in the Ministry of Law and Human Rights (Kemenkumham), Silmy Karim, has expressed his thoughts on why many tourists, primarily foreign tourists, misbehave while visiting Bali.
Via a press release issued on Thursday, 10 July 2023, Silmy said, "The main problem rests with foreign tourists with low spending levels in Bali who create a public nuisance."
The immigration official believes that foreign tourists view Bali as a low-cost tourism destination. Adding: "Bali is a cheap tourist destination attractive to tourists with limited financial resources."
Bali Becik Task Force
To respond to this problem, Silmy has formed a Bali Becik Task Force to monitor foreigners in Bali. Initially, the Task Force is targeted to undertake 100 enforcement actions monthly. The Director-General assures the immigration task force will undertake its mission without disturbing tourism activities on the Island.
The Bali Becik Task Force has been established under a decree of the Director General of Immigration (Nomor IMI-0187.GR.01.01 – 23 Juni 2023) as a response to the growing number of incidents of public disorder involving foreign tourists in Bali.
Silmy announced that a Special Task Force Telephone Number (081399679966) has been established for people in Bali to report violations to the Bali Becik Task Force.
The Bali Becik Task Force is composed of immigration officials from the Directorate General, Provincial immigration officials, representatives of the Ngurah Rai Immigration Office, Denpasar Immigration Officers, Singaraja North Bali Immigration Officials, and officers from the Denpasar Immigration Detention Facility.
The Task Force aims to protect and preserve Bali's reputation by enforcing rules and regulations.
The Bali Becik Task Force will work until its planned disbanding on 31 December 2023. "Bali Becik" or "Good Bali" follows the publication by immigration of a booklet of "Do's and Don'ts" given to arriving international tourists upon landing on the Island.
Related Articles
Minding Ps & Qs, Do's & Don'ts in Bali
Irish Woman Sent to Bali's Mental Asylum
47 Detained by Immigration Jan-June 2023
A Bad Nude Dance by Mata Hari in Ubud
Mind Your Manner Bali Billboards Planned
Bali to Limit Number of Foreign Tourists?
Brisbane-bound Bogans Bounced by Jetstar
Luhut: Tax & Discipline Foreign Tourists
Bali Deports Harlots & Driving Instructors
Police Campaign Against Errant Motorists
Bali Unites to Rein in Errant Foreigners
Rubbing People the Wrong Way in Bali
Brit Goes from Drugs to Grand Theft in Bali
194 Foreigners Deported from Bali in 2022
Stay Informed on Bali Tourism-Related News: Subscribe to Bali Update