The managers of the Garuda Wisnu Kencana (GWK) Cultural Park located at Ungasan, South Kuta, have prepared new health protocols to thwart the spread of the COVID-19 Pandemic.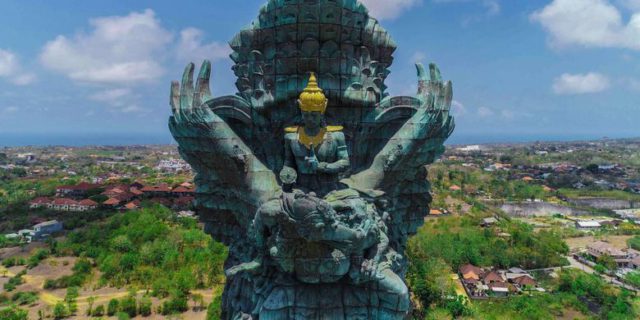 As reported by NusaBali, GWK now stands fully prepared to welcome tourists in the circumstance of the "new normal."
Andre Prawiradisastra, the head of the marketing communication and events division at GWK said on Tuesday, 09 June 2020, "We have implemented comprehensive health protocols throughout the GWK Cultural Park area. These measures apply equally to both tourists and employees, to provide a sense of security and well-being for tourists when visiting the GWK Cultural Park."
Andre described that the "new normal" health protocols against COVID-19 commence from the moment guests arrive in the Park's parking lot, purchase an admission ticket, pass through the entry gate, visit a restaurant, or use any public facilities such as the toilets and mushola.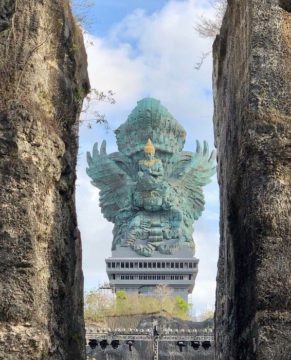 Signage with health reminders now abound in all areas of GWK. "All tourists visiting GWK will be required to undergo a body temperature check, after which they will be given a sticker signifying they have passed a thermal screening. In addition, guests are required to wear face masks, and must follow the directions of supervisors located throughout GWK," explained Andre.
GWK managers have positioned fixed and mobile hand-sanitizing stations throughout the Park and basins for handwashing at all toilets and other convenient locations across the GWK.
Visitors and staff working at GWK must submit to physical distancing rules in all areas, including while using Park Transport, while standing in a queue to purchase a ticket or gain access to a toilet, or in seating arrangements in The Jendela Bali – The Panoramic Restaurant.
"To ensure that the GWK Cultural Park area is always in a clean condition, we also spray disinfectants all public areas daily," said Andre.
Employees of GWK reporting to work will undergo a temperature check. Those showing elevated body temperatures are denied entry and referred to a medical team for treatment. Meanwhile, all front liners working in restaurants or any guest contact role are required to wear face masks.