The Denpasar High Court has ruled on the appeals files by both State Prosecutors and the Defense Teams in the high-profile hate and defamation trial of I Gede Aryastina (43) or Jerinx – the drummer for the punk musical group "Superman is Dead (SID)."
BaliPost and NusaBali reported that the appeal court's decision was handed down on Thursday, 14 January 2021.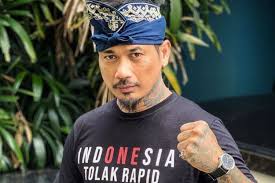 In reducing the sentence, the High Court reaffirmed Jerinx's guilt for using electronic media and social media to communicate defamation and hate speech against the Indonesian Medical Association (IDI) through his aggressive criticism of COVID-19 testing for pregnant women.
The original guilty verdict following the trial rendered on 14 January 2020 resulted in a sentence of 14 months and a fine of Rp. 10 million converting to an additional three months if left unpaid. The original sentence was, however, far less than the three years sought by Prosecutors.
The appeal court reduced that sentence to just ten months and imposed the same fine of Rp. 10 million that will convert to a reduced one-month imprisonment if left unpaid.
Jerinx has been in custody since 12 August 2020 during the investigative and trial process. With his reduced sentence from the appeals court, he has five months remaining on his sentence.
Both the State Prosecutors and Jerinx now have 14 days period ending on Thursday, 28 January 2021, to either accept the reduced verdict or appeal the new sentence.
Commenting on the reduced new sentence, Jerinx's lead attorney, I Wayan Gendo Suardana, reasserted that his client had not made any statements that legally qualified as hate speech against any segment of society. Adding that Jerinx had only criticized the IDI for how the public was required to undergo rapid testing for the coronavirus that he believes threaten pregnant women's health.
Related Articles
State Seeks to Increase Jerinx's Sentence
Jerinx-SID Jailed 14 Months for Defamation
Final Statement in Jerinx Defamation Trial
Prosecutor Seek 3 Years Prison for Jerinx
Bereaved Mother Speaks at Defamation Trial
Bali Court Hears of JRX's 'Critical' Caring
IDI Testifies Against Rock Drummer JRX
Protestors Turned Away at Defamation Trial
Online Trial of Bali Musician Continues
JRX's Walkout from Bali Defamation Trial
Protests Mount for the Release of JRX
Dangerous to Lose Patience with Your Doctor
Bali Musician Charged with Hate Speech
Governor Reminds Dissenters to Shape Up