The Student Executive Board of Bali's Udayana University's Faculty of Law (BEM FH Unud) has formally registered communal intellectual property rights of the West Bali traditional game of "mangandu" as a piece of heritage belonging to the Community of Pakraman Ole Village, Narga Dauh Puri in Tabanan Regency.
The fling of the intellectual property claim on Wednesday, 04 August 2021, was performed at the Bali office of the Ministry of Justice and Human Rights (Kanwil Kemenkumhan).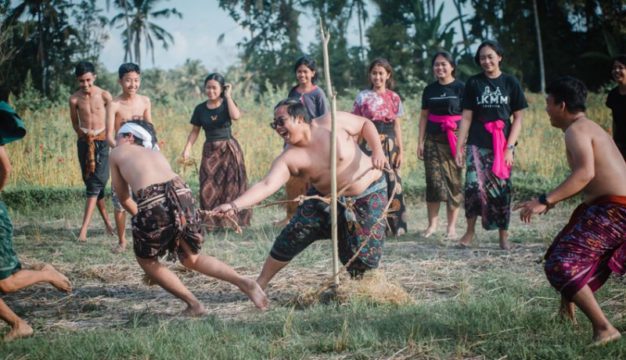 As quoted by NusaBali.com, the chairman for village development from BEM FH Ubud, Kadek Mahesa Gunadi, commented: "We will focus on topics connected to Communal Intellectual Rights (KIK), because the Traditional Village of Ole is home to 'megandu' – a traditional game native to the area that is not protected under the law."
Gunadi continued, saying mengandu represents an element of local cultural heritage value within the community that must be legally safeguarded. For that reason, the student leader said his group is earnest in their desire to register the traditional game of 'megandu' with the National Government.
Megandu
Megandu is a game played by young children in local rice fields involving ten players or more. Dried straw or rice stalks are bundled into a collection of small balls. A simple pole is erected in a small playing field to which a rope is attached made from the banana plant.
All the straw balls are placed at the base of the poll. The straw balls are guarded by one of the players who must hold on to the unattached end of the "rope" as he or she tries to stop the other players from seizing the straw balls – seen as symbolizing eggs.
The BEM FH Unud Group is registering the rules and fundamentals of the game while also socializing its play among the local community to protect and foster this element of village culture.
Speaking on behalf of the Village of Ole, the local chief (Bendesa) Wayan Sunirta Merta said: "On behalf of the village structure of Ole, I express my thanks to the university students who have demonstrated their concern for our local culture. I hope all that they have planned and undertaken will go smoothly."