Jari Menari – the award-winning massage centers based in Bali have answered the challenges of physical distancing and and healthy living in the course of the global pandemic

Bringing its 19-years of experience as Bali's leading professional massage center to bear, Jari Menari has launched a new program, bringing their healing and restorative "touch" to the comfort of homes and villas in Bali.
Jari Menari has launched an innovative program where one of their highly-trained massage practitioners will come to your house or villa with everything that's required for your massage – including a professional, fully-sanitized massage table; massage oils; high quality, and sanitized sarong-sheets and draping sarongs. Setting up for a treatment takes very little time and only needs sufficient room for the set-up of the portable massage table (185 cm x 71 cm).
Air conditioning or a fan? Your call. Consider, also, turning off your mobile phone and putting your favorite relaxing music on the stereo to create a perfect home-spa environment.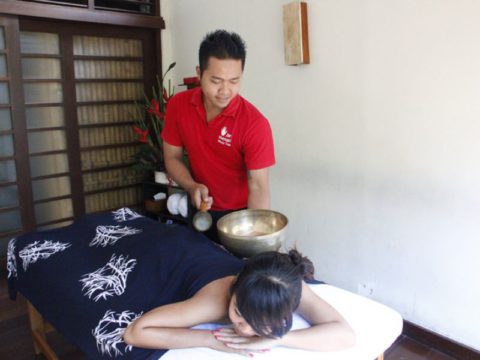 For nearly two decades Jari Menari has placed its client's health and comfort as their top priorities. As a result of the current global pandemic, Jari Menari has devised a safe and secure home-spa environment.
Jari Menari's COVID-19 protocols and procedures include:
The requirement that clients wash their hands and take a hot shower or bath prior to their massage. This optimizes sanitation and helps relax muscles before the treatment begins.
After arrivals and the set up of the portable massage table, the Jari Menari Practitioner will step outside to allow the client to undress in private.
Clients are asked to advise the Practitioner of any past injuries or problem areas requiring extra attention. Please also advise the level of massage pressure preferred, feeling free to request a pressure adjustment during the course of the treatment.
To preserve modesty and keep manipulated muscle groups warm and relaxed, The Jari Menari full-body draping procedure is applied at all times.
Jari Menari's 90-minute massage sessions are designed to allow sufficient time to reduce or eliminate muscular pain or discomfort. 
At the end of the treatment, the practitioner leaves the room to allow the patient to get up at their own pace and get dressed.
After packing up the massage table and equipment, the practitioner will leave the patient to relax in their home.
Jari Menari Deep Tissue Massage
Jari Menari massage practitioners work on the muscle and soft tissue of the body. Their new "Deeply Relaxing, Deep Tissue Massage" is effective in treating muscle injuries such as strains, sprains, or stiffness by increasing blood and oxygen flow to the tissue, reducing fluid build-up, and decreasing healing time.
COVID-19 Protocol
Clean facilities, proper practitioner hygiene procedures to ensure guest safety, and disease prevention protocols have long been a cornerstone of Jari Menari's professional massage practice. The outbreak and rapid spread of COVID-19 highlight the need for renewed attention and increased vigilance in these areas. Because of this, strict protocols have been supplemented to enhance the protection of both clients and practitioners during this time.
Jari Menari continyes to deliver an unparalleled experience of restoration and rejuvenation to its guests. Every team member remains fully committed to strictly following COVID-19 protocols and always keep health uppermost in their minds.
Benefits of an at-home massage
No wasted time. There's no need to leave home when you need a healing, relaxing therapy.
Post-massage relaxation. Instead of driving home and interrupting your relaxation, you can sit back in the comfort of your own home after your massage.
Experience deeper relaxation in your own comfort zone. If you're counted among those who are unable to enter a state of mental bliss when dealing with unfamiliar spaces, an at-home massage will prove a perfect solution. A familiar space where you can unite your senses and focus on the therapeutic touch is undoubtedly where you will relax the most.
Those who may be easily distracted by external disturbances and prefer to control the temperature, lighting, aromas, and music in the room will find an at-home massage ideally suited to their needs.
Now, booking a Jari Menari massage practitioner to come to your home is about as easy as getting a pizza delivered right to your front door.
It's time to say "yes" to a Jari Menari Premium Massage at home.
For more information and bookings:
Telephone: +62-(0)361-736 740
WhatsApp: +62 812 37 692 395