The KM Sweet Stanly – a powerboat operated by Bali Apollo Dive and Water Sports, caught on fire on Friday, 06 May 2022, at 10:00 am off the beach at Tanjung Benoa near Nusa Dua.
As reported by NusaBali.com, the boat used to tow parasailing participants was carrying six domestic tourists when a fire broke out on the KM Sweet Stanly, when the passengers abandoned the ship and jumped into the ocean to be rescued and brought to shore by other boats operating in the area.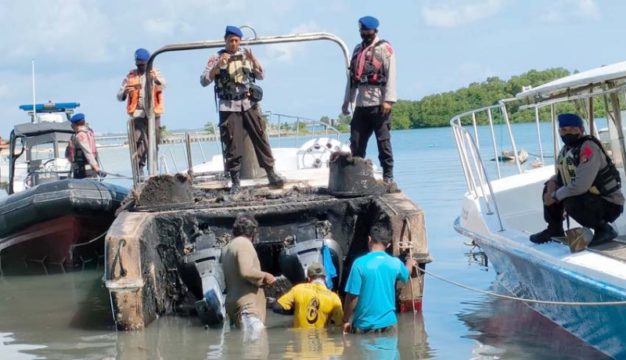 The speed boat caught fire approximately one kilometer from the shoreline of Tanjung Benoa while towing tourists on a parasailing excursion. Preliminary investigations indicate that the ship suffered a short circuit in one of two Yamaha 200 Horsepower Outboard Engines powering the boat, resulting in the fire. Before the fire could be brought under control, the blaze had destroyed the engines and back deck. 
Of the six tourists, comprised of three men and three women, rescued from the water after abandoning ship, all were reported safe and uninjured. One crew member, Tanga Arsenus (31), was taken to the Surya Husada Hospital in Nusa Dua with burns to his hands.
The owner of the KM Bali Apolo, I Wayan Ednyana (38), told NusaBali.com in a WhatsApp communication the mishap caused six domestic tourists to leap into the sea before being rescued and brought to shore. 
Ednyana put the estimated damage and loss caused by the fire at Rp. 800 million.
Separately, a spokesman for the Denpasar Police, Iptu Ketut Sukadi, said that while the fire and incident were still under investigation, police suspect a short-circuit in the boat's electrical system caused the engine fire. The fire was extinguished by the boat's crew and members of the Indonesian Water Police. Police said the fire damaged the back deck and two outboard motors.
The boat was preparing to deploy its parasails when the Captain, Martinus Ngajo, heard a small explosion from the engine area, followed by fire and smoke billowing from the back of the boat. Passengers and crew quickly leaped into the sea.
Bali Apollo Water Sports have issued a formal statement and apology to the crew and passengers, accepting the event as a pure accident while guaranteeing that the company will pay all medical expenses for the crew