RadarBali.com reports that repairs on three major bridges on Jalan Gatot Subroto Timur, targeted for completion on 31 December 2022, may have suffered a major setback.  The bridges span major river gorges on the road that connects Bali's east and west coast across Denpasar north.
Repairs and upgrades on three bridges are budgeted to cost Rp. 109 billion.
Portions of the bridge construction over the Ayung River reported suffered a collapse on 23 September 2022.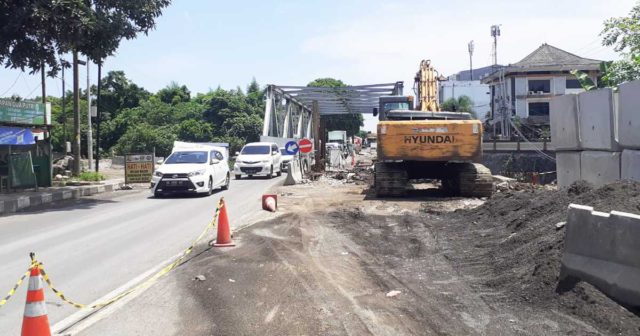 Following the collapse, an observer on zoning and infrastructure who is also a senior professor in the Technical Faculty at Bali's Udayana University, Dr. Ir. Putu Rumawan, has expressed his concerns, questioning the quality of the concrete being used on the bridge.
The partial collapse of the Ayung River Bridge occurred on Thursday, 22 September 2022, during a rain storm while a heavily loaded truck filled with sand was crossing the gorge. The contractor employed to repair the bridge recently complained of high fuel costs and the burden of constructing retaining foundations to protect local temples.
Professor Rumawan focused on the continuing passage of vehicles over the bridge still in the process of repairs and reconstruction. "It is difficult to undertake constructions on a bridge still open to traffic. I am worried that the concrete will crack, exposing the interior steel strengthening rods to corrosion, resulting in an overall weakening of the structure," he said.