Tempo.co quotes the Director of Human Capital for PT Garuda Indonesia, Aryaperwira Adileksana, explaining the future fate of the national flag carrier's fleet of Bombardier and ATR Aircraft. confirmed the return of these airplanes to the lessors. Earlier, in a continuing investigation, State Prosecutors had uncovered corruption in the procurement process of these two types of aircraft dating from 2011.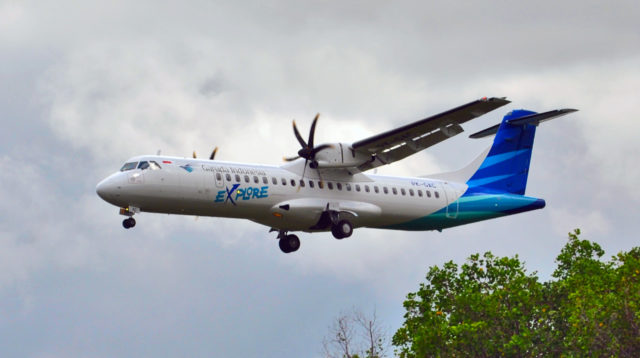 Speaking to the press, Aryaperwira confirmed that the entire Canadian-made armada of CRJ-1000 Aircraft would be returned to the lessor. Garuda Indonesia operates 18 Bombardier, 12 of which have already been sent back to the lessor Nordic Aviation Capital (NAC) in February 2021.
Aryaperwira told Commission V of the People's House of Representatives (DPR-RI) on Tuesday, 28 June 2022: "We have decided to stop (operating) Bombardier CRJ 1000 and ATR aircraft – all of them be returned."
Meanwhile, ATR aircraft will continue to be operated by the Garuda subsidiary Citilink Indonesia to fly regional short-haul routes. Garuda routes now being flown by Bombardier Aircraft will be served in the future by existing Garuda Boeing 737-800 Aircraft.
The plan to stop the operation of CRJ-1000s is being done because of mounting annual losses of US$30 million suffered by Garuda. These losses are blamed on using an aircraft type deemed ineffective and inappropriate to passenger demand on the routes on which they were flown. The Bombardier CRJ-1000 is configured to carry 96 passengers with limited baggage capacity.
Just before the announcement by Aryaperwira, the Attorney General had named the former CEO of Garuda, Emirsyah Satar, as suspected of committing corruption in the acquisition of Bombardier CRJ-1000 and ATR aircraft.
Chief Prosecutor SamitiarBurhanuddin estimated state losses in the corruption case to amount to Rp. 8.8 trillion. In a press conference on Monday, 27 June 2022, Burhanuddin revealed that State Audit Board results confirmed the losses of Rp. 8.8 caused by the acquisition and operation of 23 CRJ-1000 and ATR 72-600 at non-competitive rates.
Related Articles
Garuda Strikes Deal with its Creditors
DPR Urges $522.4 Mn Cash Boost for Garuda
Garuda Seeks to Cancel Aircraft Orders
Gerinda Party Wants Gov't to Rescue Garuda
Garuda to AXE 41% of its Air Routes
Bracing for a Tearful Farewell to Garuda
Rapid Descent of Garuda Indonesia
Garuda on the Precipice of Collapse?
BEI Suspends Trading in Garuda Stocks
Nikkei Asia: Indonesia's State Airline Garuda Hangs by a Financial Thread
Former Garuda CEO Sent to Prison
Garuda Terminates Another 700 Workers