The MV Laperouse, sailing from Australia, became the first international cruise ship since the start of the COVID-19 pandemic to berth at Bali's Benoa Cruise Port on Monday morning, 19 September 2022
As reported by NusaBali, the ship's 250 international passengers disembarked at 7:00 am.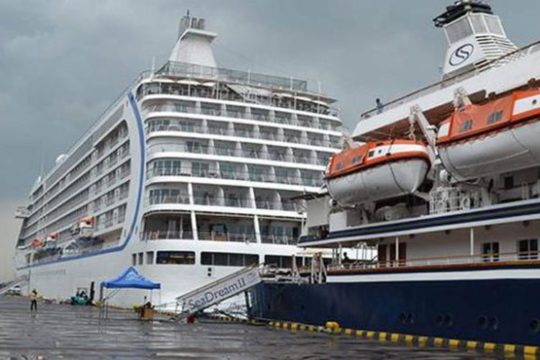 The 130-meter-long cruise ship received a ceremonial welcome from the port operators – PT Pelabuhan Indonesia, the Provincial Government of Bali, and the ship's local agent.
The regional head of Pelindo III, Ardhy Wahyu Basuki, said the gala welcome for the ship was done in response to the special significance of the visit. Adding: "This is the first cruise ship visit to Indonesia following the pandemic." He also explained that the MV Laperouse visit was another sign that the Indonesian tourism industry was on the rebound after a nearly two-year hiatus.
"We know that the pandemic had a tremendous impact on all aspects of business, one of which is tourism, and now after almost two years, what we were waiting for has come. This is certainly good news for us all," said Ardhy.
Ardhy also said his colleagues had worked hard with various parties to prepare for this moment, including preparing all ports in the region, so they are ready for cruise visits. This has been done in the hope of Bali becoming one of the leading cruise gateways for Indonesian tourism while, at the same time, implementing strict health protocols. Adding: "We will also boost the national economy by providing exhibition stands for small and medium-sized entrepreneurs support to showcase their products during Cruise visits," he explained.
Ardhy emphasized that no time is wasted in ensuring all Indonesian ports-of-calls are ready to welcome cruise ship visits and sea tourism. Particular emphasis was paid to service, facilities, and health protocols in undertaking these preparations.
Also commenting on the visit of the Australian cruise ship, the head of the Provincial Tourism Agency, Tjokorda Bagus Pemayun, said, "the arrival of cruises will help turn the wheels of the economy in a significant way."
Pemayun stated that the preparations and service for the ship's visit were well done. Tjok Bagus said he looked forward to future cruise ship visits to support Indonesian tourism, specifically Bali tourism.
The Captain of the MV Laperouse, Provist Ludovic Theopile Jose, told the press he was very moved and impressed by the welcome extended by the people of Indonesia and, in particular, Pelindo III. "We have visited many places in the world, and Indonesian port visits are always our favorite," said the Ship's Master.
After a two-day visit to Bali's Port of Benoa, the ship will continue its voyage to Probolinggo in East Java and Tanjung Emas in Surabaya.
For 2022, Pelindo III expects 40 ship visits, followed by 127 visits in 2023.
Related Articles
Bali Cruise Port to be Showcased to G20
Bali to Unify Benoa Port & Bali Airport?