The Indonesian Government has imposed limitations on public movement and activities for the islands of Java and Bali between 11 to 25 January 2021 to curb the spread of COVID-19.
In justifying the "semi-lockdown," the Coordinating Minister for Economic Affairs, Airlangga Hartanto, said he imposed the limitations due to the COVID-19 infections rates on Java and Bali and the limitation of hospital beds available for patient care. 
As reported by Tribun-Bali.com, the Government is concerned that the national average for positivity is now at 14.2%, meaning 14.2% of all tests to detect COVID-19 yield "positive" results for the presence of the disease.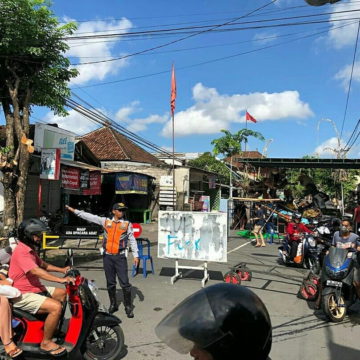 Although Bali's Government guidelines originally only stipulated the limitation of public movement in the City of Denpasar and Badung Regency, Bali's Provincial Government has expanded the limitations to include Gianyar Klungkung, and Tabanan.
The limitations and dictates on public activity until 25 January include:
75% of all offices must introduce "Work from Home" programs. The Bali Provincial Government lowered this regulation to 50%.
Education shall be conducted only in an online format.
The economy's essential sectors will be allowed to operate at 100% but with limitations on hours of operation and carrying capacity. Generally, the "essential" sectors of the economy are connected to the supply of consumption goods.
New limitations on hours of operation for businesses and shops dictate closure at 7:00 pm. The Governor of Bali has now extended this closing time to 8:00 pm. Restaurants must not allow occupancy of more than 25% of their standard capacity. Restaurants are encouraged to maximize their delivery and takeaway services.
Construction activities can continue at 100%, providing all health protocols are followed.
Places of worship are allowed to continue rituals and services but only at a 50% capacity level with full compliance to health protocols.
Public facilities and social activities are temporarily closed.
Limits on capacity and hour of operations are also in effect for all forms of public transportation.