Taman Safari, Indonesia's world-renowned collection of wildlife parks, has been honored with a prestigious "Best Safari Park and Wildlife Conservation Achievement" award by the Malaysian Association of Theme Parks and Family Attractions (MATFA).
The Malaysian Association of Theme Parks and Family Attractions is a prominent organization dedicated to promoting the development and growth of theme parks and family attractions in Malaysia and beyond. Their awards program acknowledges outstanding achievements and sets benchmarks for excellence in the industry.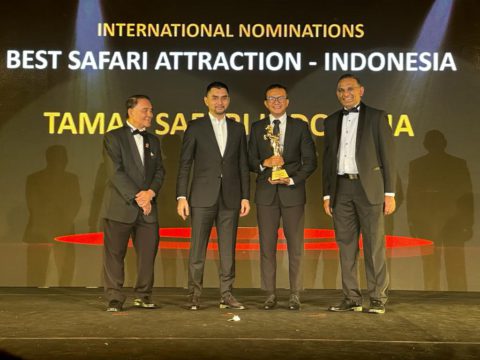 The award recognizes Taman Safari Indonesia's commitment to excellence in providing an exceptional visitor experience in combination with exemplary efforts in wildlife conservation. This recognition underlines the parks' dedication to championing biodiversity while educating the public on the importance of wildlife conservation.
Taman Safari Indonesia is a leading destination popular with tourists and wildlife enthusiasts. The Parks offer unique opportunities to observe and interact with various animal species in natural habitats. Taman Safari Indonesia provides an educational experience promoting a deep understanding and appreciation for wildlife, from elephants and tigers to giraffes and orangutans.
"We are incredibly honored to receive this distinguished award from the Malaysian Association of Theme Parks and Family Attractions," said Alexander Zulkarnain, VP of Media, Event, and Digital at Taman Safari Indonesia. "It is a testament to the hard work and dedication of our team, who are committed to ensuring the highest standards of wildlife conservation and visitor experience. This recognition will further inspire us to continue our efforts in creating a sustainable future for wildlife."
Taman Safari Indonesia operates three parks located in Cisarua in the Bogor Regency, Prigen (East Java), and Bali.
Taman Safari Bogor (Taman Safari I) is 50 km south of the Soekarno-Hatta International Airport in Cengkareng, West Java. The Bogor Park, which was opened in 1980 and covers 170 hectares, serves as home to 3,000 animals, including Bengal tigers, Malayan sun bears, giraffes, orangutans, hippopotami, zebras, and Sumatran elephants.
Taman Safari Prigen in East Java (Taman Safari II) is located 50 km south of Surabaya's Juanda Airport, covering 350 hectares on the slopes of Mount Arjuno.
Bali Safari Marine Park is located north of the Island's capital city of Denpasar and encompasses 40 hectares. The Bali Park is home to 1,000 animals across more than 100 species.
Taman Safari Indonesia's wildlife conservation initiatives include active involvement in breeding programs, habitat preservation, and public awareness campaigns. The Parks continue to collaborate with local and international organizations supporting research and conservation efforts that contribute to protecting endangered species.
Taman Safari officials say the latest award serves to solidify its position as a world-class wildlife park committed to providing exceptional experiences for visitors and contributing significantly to wildlife conservation efforts. The Parks are committed to fostering a greater understanding and appreciation for the natural world while inspiring future generations to protect and preserve our planet's rich biodiversity.
Related Links
East Java (Prigen) Taman Safari
16 Komodo Dragons Born at Bali Taman Safari
Two Hyenas Born at Bali Safari Park
Bali Safari Park Welcomes New-Born Giraffe
Stay Informed on Bali Tourism-Related News: Subscribe to Bali Update