Two resorts in Bali are among "TripAdvisor's Traveler's Choice Best of The Best" list of the 25 best Hotels in the world for 2022.
The "Best of the Best" awards are granted annually to destinations, hotels, restaurants, and attractions/activities globally deemed outstanding by users of the TripAdvisor application and website.
Results reflect the quality and quantity of visits during the entire calendar year of 2021 and a qualitative review of travelers' comments on the site. The 2022 results cover the period beginning 01 November 2020 through 31 October 2021.
The Two resorts in Bali ranked by TripAdvisor among the 25 best in the world: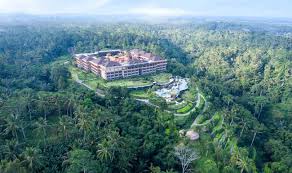 Padma Resort Ubud
Padma Resort Ubud is ranked #9 among the 25 top hotels for 2022. Padma Resort is located north of the popular Central Bali Destination of Ubud in Banjar Carik, Kecamatan Payangan in Ginayar Regency.
Trip Advisor praises the location and atmosphere evident from the moment a guest arrives in the lounge that offers views of a beautiful jungle canopy. The Padma Resort Ubud offers 149 rooms and an 89-meter-long infinity swimming pool.
The Resort offers the following room categories: Premier Room, Premier Twin Room, Premier Deluxe Room, Premier Club Room, Premier Club Pool View, One-Bedroom Suite, and Two-Bedroom Suites. During a stay, guests are enjoined to enjoy a range of activities that include archery, Yoga, cycling, trekking, and golf.

The Royal Purnama Bali
Ranked at #19 among the World's Best 25 Hotels in 2022 is The Royal Purnama Bali, located at the end of Jalan Pantai Purnama, Sukawati, in the Regency of Gianyar.
Located on absolute beachfront, The Royal Purnama Bali offers a range of private villas varying in size and number of bedrooms. Villas feature either a private pool or Jacuzzi positioned next to the oceanfront.
Among the activities offered by The Royal Purnama Bali are local trekking through rice fields, yoga classes, lessons in created traditional offerings, and cooking classes.
The Lists of TripAdvisor 25 Best Hotels for 2022:
Tulemar Bungalows & Villas – Costa Rica
Hotel Colline de France – Brasil
Ikos Aria – Greece
Romance Istanbul Hotel – Turkey
The Omnia – Switzerland
Kayakapi Premium Caves – Cappadocia, Turkey
Six Senses Laamu – Maldives
Hamanasi Adventure and Dive Resort – Belize
Padma Resort Ubud, Bali Indonesia
Bless Hotel Madrid – Madrid, Spain
Ikos Dassia – Greece
Pimalai Resort and Spa – Thailand
Lotte Hotel – Hanoi, Vietnam
Como Cocoa Island – Maldives
La Maison Favart – France
Sukhumvit Park – Bangkok – Marriott Executive Apartments, Thailand
Quinta Jardins do Lago – Portugal
La Maison Arabe – Morocco
The Royal Purnama – Bali, Indonesia
Jaya House River Park – Cambodia
The Hazelton Hotel – Canada
Round Hill Hotel and Villas, Jamaica
Saraye Ameriha Boutique Hotel- Iran
Bucuti & Tara Beach Resort Aruba – Aruba
The Oberoi Beach Resort Sahl Hasheesh, Egypt
Related Article
Nusa Penida Among the World's Best Beaches
Stay Informed on Bali Tourism-Related News: Subscribe to Bali Update