Responding to a question from a tourism leader asking when the government would reopen Indonesia's borders for foreign travelers, Bali's Deputy-Governor Tjokorda Oka Artha Ardana Sukawati (Cok Ace) revealed that the government is putting in place plans for COVID-Free-Corridors that will allow the return of international visitors Bali.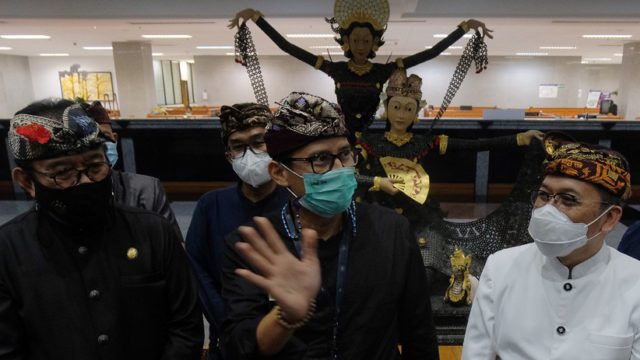 As quoted by Radar Bali, Cok Ace, speaking in a webinar, explained: "The target for foreign tourists is travelers from China, a country that has managed to end the pandemic through a successful program of vaccination. So, we (now) can bring them (to Bali)."
While the Deputy-Governor spoke at one webinar, another Zoom meeting was underway held by the Indonesian Association of Travel Agents (ASITA 71). The theme of the ASITA webinar was "When will Bali Open its Borders?" During the ASITA 71 Zoom Meeting, the Deputy-Governor emphasized that a disciplined approach to COVID-19 health protocols is essential if Bali desires to reopen its borders.
In figures compiled by the government, Bali ranks second nationwide at 98.3% for conformance to COVID-19 health protocols after West Kalimantan (98.6%). "This will become a means for us to persuade the international community that Bali is safe and ready to welcome foreign tourists," said Cok Ace.
Because of the need to maintain health and hygiene standards to reopen the borders, the government said it will not stop echoing the need for the strict implementation of all health protocols. Cok Ace said health protocols had become the leading sales point for Bali, displacing nature and culture, which were the top attractions in the past. The Deputy-Governor insists that Bali must convince the international public that both the government and Bali's people implement health protocols to the highest standard.
In addition to exhibiting best practices in hygiene and health, Cok Ace said any destination seeking the return of tourists must vaccinate at least 75% of its local population, emphasizing the need for inoculation of tourism workers. Because of this, the Deputy Governor insists that the government's chief duty must be to complete the vaccination of at least 75% of the residents of Bali as quickly as possible.
Adding: "For this reason, I request that the Central Government prioritize the people of Bali for vaccination."
In addition to the need to quickly complete vaccination programs, any destination desiring the return of international tourists must also establish health facilities comparable in quality to those of the visitors' source country.