The chairman of the Indonesia National Air Carrier Association (INACA), ) Denon Prawiraatmadja is calling on the Indonesian government to provide incentives to the National aviation industry to recover from the COVID-19 pandemic.
Quoted by NusaBali and the State News Agency Antara, Prawiraatmadja said on Friday, 26 February 2021: "To restore health to the aviation sector, tax incentives and reduced airport use tariffs are needed."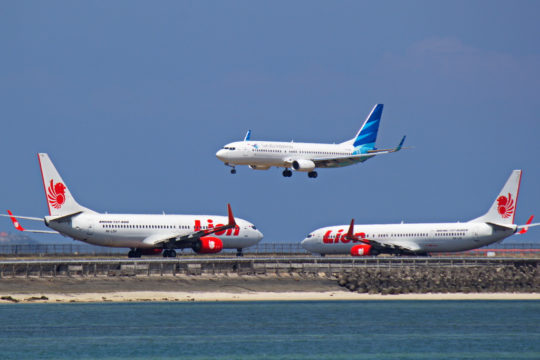 The INACA chairman stated that aviation demands serious attention from the government because this sector of the economy contributes more than 2.6% of Indonesia's gross domestic product that provides around some 4.2 million jobs.
Denon complained while all Indonesian aviation operators filed a request in March 2020 for incentives to the Coordinating Minister for the Economy and the Minister of Finance, that request has failed to earn a positive response.
There are currently 36 airlines members of INACA who put forward the March 2020 request for tax relief. Denon admitted that the organization's target of reduced payroll tax levels (PPh 21) from tens of airlines is a sum that is difficult to calculate accurately.
INACA is also seeking payment flexibility for airlines in payments to several State-owned companies (BUMN) operating in the aviation sector. Cash-strapped Indonesian airlines need payment terms and flexibility from Pertamina, Angkasa Pura I and II, and AirNav.
The cost of aviation fuel represents 40-45% of total operating costs for Indonesian air carriers. Meanwhile, Pertamina is the sole supplier of aviation fuel in Indonesia.
Separately, the CEO of Indonesia AirAsia, Veranita Yosephine, confirmed her company is currently negotiating with airport managers for lower parking rates for idle aircraft parked on tarmacs. Verantina hopes to obtain discounts or delayed payment terms for parked aircraft.
Presently, Indonesian air operators continue to enjoy the elimination of Passenger Service Charges (PSC) extended by the government to serve as an incentive to urge Indonesians to travel.
Looking to the future, Veranita hopes the government will soon reopen Indonesia's border to international travelers, especially for passengers who follow all health and hygiene protocols, show current COVID-19 test results, or show proof of vaccination.
Separately, the CEO of PT Citilink Indonesia, Juliandra Nurtjahjo, said he hopes that the public will again choose air travel as their preferred form of transportation. If current targets for nationwide vaccination are met, Nurtjahjo is optimistic that air travel demand will return to health in 2022.
Taking a possible more realistic view on the return of the aviation sector, Nurtjahjo said: "The most optimistic time frame (for a return to normalcy) that has been put forth is the end of 2023 or early 2024. Only then will traffic levels return to levels seen in 2019."