The Bali-based international fashion icon Paul Ropp died surrounded by family on Tuesday, 29 August 2023, on the Island that had become his home.
An American born in Brooklyn, New York, 78 years ago, Ropp lived a life as colorful as his eponymous fashion brand that flew in the face of convention and restraint. A self-described "artist," Ropp said what he did was: "not about fashion. It's about 'oohs' and 'aahs". . . I know 'oohs' and 'aahs.'"
From a humble start, designing tee shirts in San Francisco with colorful designs that were embraced by the Bay's large counterculture, by 1978, Ropp had moved camp to Bali, where he established his first of five stores that promoted unique designs that were sold in 2000 stores across 39 countries worldwide.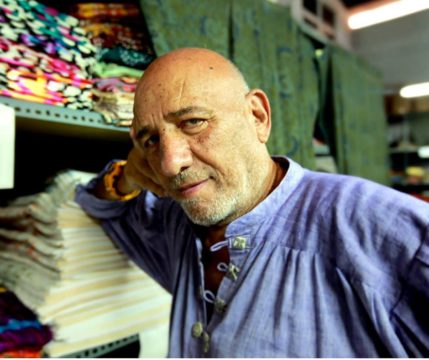 His ex-wife, who remained a lifelong good friend, Susanna Perini, founded Biasa – another leading Bali fashion house where their daughter, Sai, acts as CEO.
The unprecedented freedom of the 1960s, a global wanderlust, and broad associations with members of the glitterati influenced Paul. It could be argued that the glitterati flocked to "frocked" by "Ropp."
"What I do is not about fashion. It's about 'oohs' and 'aahs". . . I know 'oohs' and 'aahs.'" 

Paul Ropp 1945-2023
Being "frocked by Ropp" allowed many members of the jet set to underline their glamour as they demanded and got attention in every room they graced.
Ropp's fashion is instantly recognizable by its free-spirited style in vibrantly bold, colorful patterns and textures. Paul's mantra of making "clothes for people who prefer to be naked" produced clothing that always got attention, or as Paul would say, "oohs" and "aahs."
Ropp was a cultural sponge, mingling with members of major musical groups and celebrities, including a period where he was a road manager for Paul Butterfield Blues Band during their appearance at Woodstock. Extensive travels across Asia exposed Ropp to the textile traditions of India, Tebet, and China.
The cremation of Paul Ropp's remains was scheduled for Monday, 04 September 2023, at the Kerta Semadi Mumbul Krematorium in South Bali at 1:00 p.m. His ashes were subsequently committed to the sea ("Nganyud") at Jimbaran Beach near Jalan Yoga Perkanthi, near the entrance to The Puri Belmond Hotel.
Stay Informed on Bali Tourism-Related News: Subscribe to Bali Update