The Floresa.co online news portal from Labuan Bajo, West Flores, boldly reports a grievous incident of police impunity that victimized, Guido Andre Sadi (21) a BRI Bank Guard (SATPAM) on the morning of Wednesday, 13 September 2023.
The incident that earned widespread comment in local media and social media occurred when a security guard reminded a customer using an ATM to remove his helmet.
Nationwide, many ATMs display written warnings advising customers to remove motorcycle helmets while undertaking automated transactions. These guidelines provide an additional layer of security by ensuring CCTV cameras can catch the image of every person using an ATM. The simple precaution of preventing users from hiding their faces has proven effective in limiting criminal activity, including identity theft, ATM Card theft, and physical coercion of customers by shadowy 3rd parties.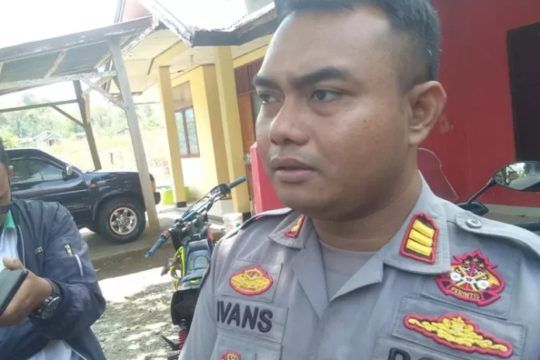 Guido Andre Sadi, the BRI Bank Security Guard, told Floresa.co: "I was on duty at the Bank when someone suddenly arrived wearing a helmet and entered the ATM locket."
Following established procedures, Sadi ordered the ATM customer to remove his motorcycle helmet.
Unfortunately, Guido Sadi was unaware he was instructing the Chief of the Komodo Police Precinct, Assistant Inspector AKP Ivans Djarat, who clearly took umbrage at being ordered" to do anything.
Guido said he spoke to AKP Ivans Djarat, saying: "Good morning, Sir, when you enter the ATM Booth, please leave your helmet outside."
Inspector Djarat curtly replied. "It's okay" – meaning "never mind," in this instance.
A short time later, another policeman appeared on the scene, asking Guido to follow him to meet his superior officer, AKP Ivan Djarat.
Later, speaking with a reporter, Guido said: "At first, I didn't know the customer was a police officer. I only realized (Ivans Djarat) was a policeman after I was summoned (to the police station)."
Meanwhile, in the process of asking permission from his supervisor at the BRI Bank to follow the Policeman to the police station, AKP Ivans suddenly reappeared at the BRI Bank Branch and struck Guido Sadi. At that point, Guido was escorted to the Komodo Precinct Police Station, as a beating was administered along the route and continued at the police station where he was placed in a jail cell.
"Fists and sandals hit me," said Guido, as AKP Ivans cursed: "You dog! Because of you, my ATM Card has been blocked."
Guido said his physical abuse was witnessed by five others at the police station, adding: "None even tried to intervene on my behalf."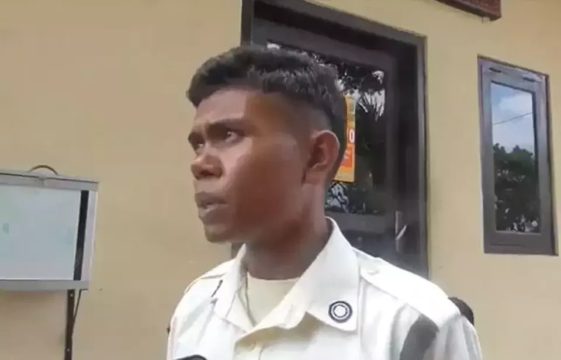 Guido said while being beaten, he was reduced to kneeling and begging for mercy. As he apologized, H claims the beating continued while the senior Policeman Drajat repeatedly called him "a dog" ("Angjing lu").
Guido said that the Bank's security team supervisor eventually arrived at the police precinct and debated with the Drajat, demanding the case be appropriately discussed following set procedures. G said his supervisor received an insulting response from Inspector Drajat: "You dog, what do you want?".
Guido later sought medical treatment for his injuries at a local clinic before reporting the incident to the West Manggarai Police Resort.
"I did nothing wrong. I was simply following my duty as a Satpam," he complained.
Press reports say Guido has steadfastly refused approaches to seek a peaceful mediated settlement with the police. Guido told the press: "I don't want (a peaceful settlement). I have refused that. This case has to be settled following a legal process."
Guido's parents also visited the West Manggarai Police Resort Headquarters to insist he rejects the aberrant behavior of the Chief of the Komodo Police Precinct, Police Inspector Ivans Djarat. Adding: "A policeman should not create such a poor example. My son was doing his duty, only to be rewarded by being hit repeatedly."
The father said the senior police officer had violently assaulted his son and must (therefore) undergo a legal proceeding.
Angered by the Policeman's assault, the father said: "If this case is not legally processed, it will mean that the Police of West Manggarai are supporting someone who committed a violent assault. Enforce the law in a completely just manner."
AKP Ivans Djarat has responded to the widespread publicity accorded the case on social media. He explained that his physical outburst happened after he incorrectly and repeatedly entered his PIN on the BRI ATM because of the reminder issued by Guido, causing his card to be blocked.
The Chief of the Komodo Police Precinct told reporters: "I admit my mistake and that I was wrong. I apologized."
In further mitigation of his action, Djarta told reporters he was experiencing family problems that have left him emotionally distraught.
Given the refusal of Guido Andre Sadi and his family to accept any apology, the Police Inspector and potentially the five policemen who witnessed the beating will now undergo an internal police review and a potential criminal prosecution before the West Manggarai Courts.
Meanwhile, Detik.com reports that the case is receiving serious attention from the Chief of the West Manggarai Police Resort, AKBP Aro Satmoko. Satmoko promised Ivans Drajat would have to submit to both internal ethical and disciplinary reviews by police and a criminal proceeding under a court of law.
Satmoko said that Police ethics rules insist officers found to have violated discipline and ethical standards will be held to a higher standard and receive a "double punishment." He also said criminal complaints against members of the police will be processed under the established rules of law.
Related Links
A Ship of Fools at Komodo National Park
16 Komodo Dragons Born at Bali Taman Safari
Cruise Ship Fire Near Komodo: No Injuries
Reptilian Resistance at Komodo Park?
Stay Informed on Bali Tourism-Related News: Subscribe to Bali Update