As reported on BaliDiscovery.com – Uluwatu Temple Cliff Set to Crumble, expanding coverage in the local press and social media has prompted an open response from the religious guardian (penyangga) of the Pura Luhur Uluwatu, I Gusti Ngurah Pratidnya.
IGN Pratidnya, also known as Turah Joko, spoke to Balipost.com on Wednesday, 13 September, and said he was familiar with the viral coverage regarding the suspected crumbling cliff-side under Bali's iconic Uluwatu temple. The Penyangga admitted that the video and photographic coverage now making the rounds showing a lightning strike on the cliff face was a new development in the growing list of concerns surrounding one of the seven most sacred religious sites on the Island of Bali.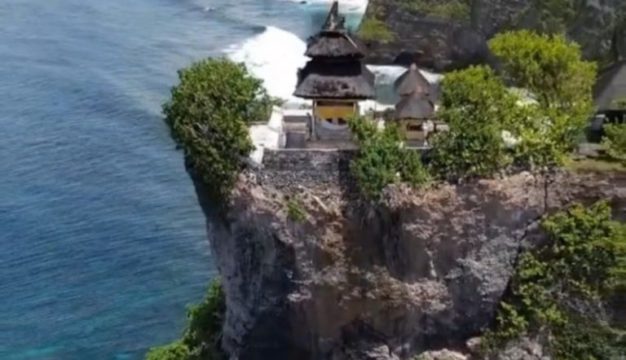 However, Turah Joko said the growing fissure is widely suspected to have been precipitated by a significant earthquake that struck on 29 August 2023 north of Lombok and was felt in many areas of Bali. Data recorded by the State Agency for Meteorology, Climate, and Geophysics (BMKG) recorded a 7.1 Magnitude seismic event that struck at 03:55 WITA with an epicenter 163 kilometers northeast of North Lombok at a depth of 525 kilometers below sea level.
Religious leaders at Pura Uluwatu said a "growing" crack in the cliff face underneath the Temple had been common knowledge for some years. Because of this and to ere on the side of caution, worshippes to the main inner Temple (mandala utama) have long been limited to a maximum of 40 people at any one time.
Observers say the fissure has been seen to grow in size over the past 5 to 10 years. Since the reign of Dahlan Iskan as Minister of State-Owned Enterprises – BUMN from 2011 until 2014, Pura Uluwatu's management has been coordinating with the Central Government, including commissioning a scientific investigation by a team from The Surabaya Institute of Technology (ITS).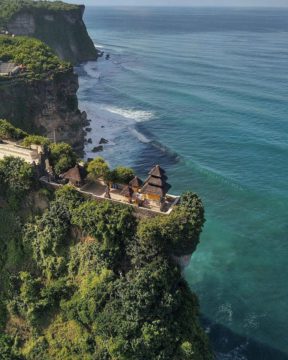 In light of the evidence of a growing fissure, Temple management is now coordinating next steps with the Badung Regency Administration. The Regent of Badung, Giri Prasta, has personally visited the Temple site and inspected the cliff face.
A follow-up visit by a technical team from the Badung Public Works and Public Housing Agency (PUPR) is set in the coming days to obtain their recommendations on preventing further destabilization of the cliff face supporting the 11th-century place of worship.
Steps are also underway to install a breakwater around the cliff base, similar to that now surrounding the Tanah Lot Temple, to reduce the threat of abrasion from large waves crashing onto the shore.
"Hopefully, in the near future, further preventative steps can be put in place to offer maximum protection so that worshippers praying at the temple near the southern tip of Bali will feel safe and secure," said Turah Joko. Adding: "Let's pray together that the future handling and improvements at the Pura Uluwatu Clif can be handled well."
Related Articles
Uluwatu Temple Cliff Set to Crumble?
Plans to Strengthen Uluwatu Temple Delayed
Good Omen? White Monkey Seen in S. Bali
Stay Informed on Bali Tourism-Related News: Subscribe to Bali Update