KMP Gerbang Samudera 2 – an inter-island ferry sailing between Ketapang, East Java to Gilimanuk, West Bali, lost power and floundered only 700 meters before reaching the landing pier at Gilimanuk. The ship ran aground at about 11:00 WITA on Sunday, 17 September 2023, after a one-hour voyage from Ketapang, East Java.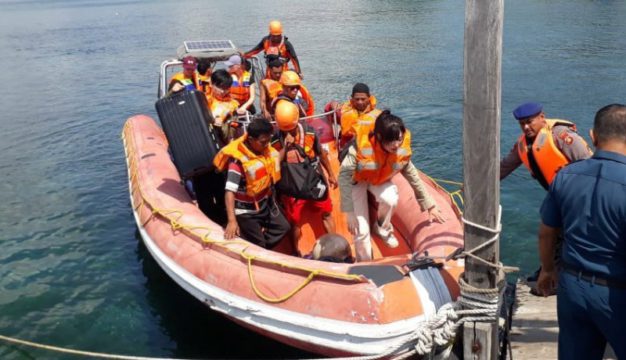 At the time of the incident, the ship carried 114 passengers – 27 foreign adults, 76 Indonesian adults, and 11 Indonesian children.
The ship also carried 18 crew and a number of four-wheel and two-wheel vehicles.
Quoted by NusaBali.com, the Coordinator of the Search and Rescue Post (SAR) at Jembrana, Dewa Henrdri Gun, said: "When the ship came close to the Gilimanuk Pier, the engine suddenly died and began floating with the current. The ship wanted to drop anchor (to halt its movement), but the strong current caused the ship to eventually run aground."
After receiving a call for assistance at 12:50 WITA, Search and Rescue (SAR) Workers, Armed Forces Personnel based in the vicinity, Police, and the Indonesian Red Cross rushed to the location to lend assistance. Clear and calm water conditions assisted the evacuation process.
Dewa Hendri said that when rescue workers arrived, the ship remained afloat and in a stable condition. The passengers and crew of the vessel were all evacuated to safety by 14:30 WITA.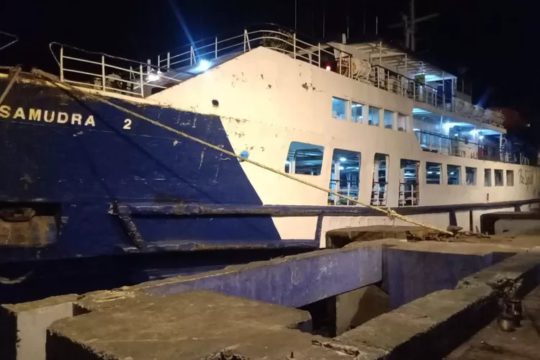 "The SAR team used Water Police Boat (Polair) and Rigin Inflatable Boats (Zodiacs) operated by BASARNAS Bali. At the grounding scene, all parties collaborated in evacuating the passenger and crew, making five roundtrips using Water Police boats and two roundtrips on SAR vessels," said Dewa Hendri.
All passengers and crew were safely brought to shore without injury. The KMP Gerbang Samudera 2 remains fast aground, awaiting a tow off the mud at high tide and a tow to a nearby dock.
PT Gerbang Samudera Sarana – the company operating the KMP Gerbang Samudera II, has a checkered history in sea safety. On 02 December 2018, KMP Gerbang Samudera I, a sistership, caught fire near Madura while sailing from Banjarmasin, Kalimantan, to Surabaya. The fire, which demolished the passenger ferry, saw 197 passengers and crew rescued, with three reported missing at sea.
Related Articles
Ferry Rates Bali – East Java Increase 6%
Blazing Ferry Abandoned in Bali Straits
At Least 6 Dead in W. Bali Ferry Disaster
Java-Bali Ferry Runs Aground in West Bali
Lombok-Bali Ferry Aground at Padangbai Port
New Ferry Allows Logistical Bypass of Bali
RoRo Ferry to Connect Surabaya-Bali-Lombok
Stay Informed on Bali Tourism-Related News: Subscribe to Bali Update