Unable to return to his home country because of the continuing global pandemic, a 34-year-old Italian Francesco D'alesio is now in police custody in Bali after being arrested in possession of Cocaine with an estimated street value of more than Rp. 400 million.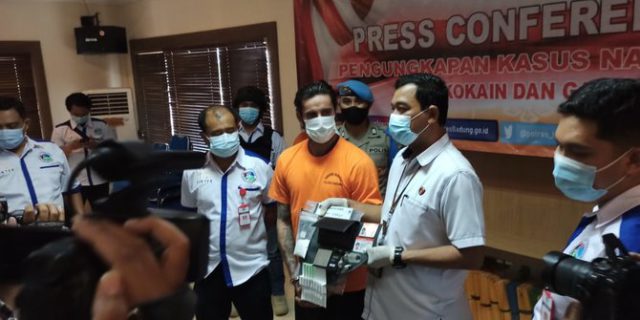 The head of the Badung Police Precinct, AKBP Robi Septiadi, accompanied by Iptu Budi Artama, confirmed to NusaBali that the arrest was facilitated by information from the public that a foreign national was selling Cocaine to other foreigners in the North Kuta area of Bali.
Working on that lead, police raided Francesco's residence at the Villa Pondok Uma Alas on Jalan Uma Alas in Kerobokan. Police found two separate stashes of Cocaine in two different locations: the man's bedroom refrigerator and a bedroom cupboard. Police then brought the Italian and the incriminating evidence to the Badung Police Precinct, where Francesco reportedly confessed that the illicit drugs were sent to him in Bali from Italy. 
The Italian also told police that he was forced to trade in narcotics to cover his living costs in Bal because he is stranded because of travel bans connected to the coronavirus.
AKBP Roby told the press that Cocaine is seldom encountered in Bali, adding: 'Cocaine is self-administered with a needle. While all narcotics are dangerous, Cocaine is more dangerous due to the threat of becoming infected with HIV/AIDS."
In a separate and unrelated case, Badung Regency Police have also arrested a 55-year-old Englishmen identified as "Kenneth" and his Balinese wife Ni Ketut Dewi Seniwati (54) for the illegal possession of 118 grams of marijuana.
The couple stay in the Pererenan Beach area of Mengwi and were arrested at a restaurant on Jalan Pantai Pererenan on Friday, 07 May 2021. When police frisked man and wife, they discovered the marijuana and a further seven packets of the drug in their parked Ford Escape.
AKBP Robby said his anti-narcotics team has been busy, making nine busts in a week. Four people have been formally charged, all foreign nationals.