Kompas.com reports that Indonesian president Joko Widodo, currently serving as the President of the G20 Summit to be held in Bali in November 2022, has announced plans to visit Kyiv and Moscow soon to discuss the economic and humanitarian impact of the Russian invasion of Ukraine.
Plans for the historic trip were announced by the Indonesian Minister of Foreign Affairs, Retno Marsudi, who confirmed President Widodo would pay a visit to Kyiv and Moscow after attending the KKT G7 as a guest head of state on 26-27 June 2022.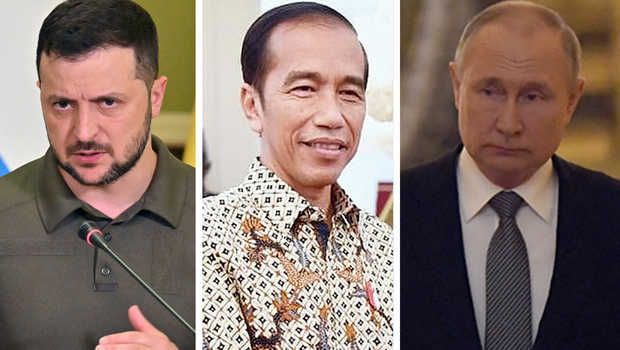 The Russian media is touting the planned meeting between Joko Widodo and Vladimir Putin as historically important, making the Indonesian President the first Asian leader to visit Russia and Ukraine since the start of the conflict between the two countries.
"During the visit to Kyiv and Moscow, the President will meet with President Volodymyr Zelenskyy and President Vladimir Putin," said Retno Marsudi during an online press briefing on Wednesday, 22 June 2022. The Indonesian Foreign Minister did not announce the dates for the planned visits. On Monday, 20 June 2022, the Coordinating Minister for Politics, Law, and Security, Mahfud MD, announced that a meeting between President Widodo and President Putin would take place on 30 June. A report published in mid-June by the Russian State News Agency TASS confirmed the same date for the planned meeting.
Marsudi said that Joko Widodo would attempt to overcome the global food crisis made worse by the war in Ukraine. The continuing conflict is blamed for various food shortages, cooking oil shortages in Indonesia, and inflationary price increases. "The visit by President Widodo will highlight Indonesia's concern for the humanitarian crisis and try to reduce the negative impact and end the food crisis caused by the war," explained Marsudi.
The G20 Summit set for Bali in November 2022 has become increasingly controversial following the decision by Indonesia to invite Russia to attend, at a time when some G20 members depict the Russian invasion of Ukraine as a war crime.
Indonesia has refused requests from President Zelenskyy for military aid, sending humanitarian assistance instead. Indonesia has also invited the Ukraine President to attend the Bali Summit as an observer. Zelenskyy has confirmed his participation, at the very least in a virtual format, depending on the status of the Russian invasion at the time of the Bali Summit.
Related Articles
World Business to Attend G20 Side Event
G20: RI Neutral & Unaligned Position
Indonesia Invites Ukraine and Russia to G20 Summit
G20 Bali Summit: The Russians are Coming
G20 Conundrum: Russia-Ukraine-Indonesia
Russians in Bali Suffering a Cash Crunch
Bali – a Favorite for Russians & Ukrainians
Ukrainians in Bali Protest Russian Invasion
Ukrainian Protestors May Face Deportation
Bali to Host G20 Summit in November 2022